In Rural Bolivia, Credit Unions Reach Deep into Communities
April 03, 2006
Valentina Aranibar in her home
The plane is late. At 7:30 a.m., the day is already muggy as the sun starts its journey across the sky over Trinidad in the Beni department of Bolivia. WOCCU-Bolivia technician Jorge Agreda waits under a palm tree outside the tiny airport for nearly two hours for his plane to show up. It's the only way he has to get to hard-to-reach San Borja, where a credit union waits.
With 1,350 members, the small San Borja branch office of Cooperativa de Ahorro y Credito Trinidad (CACTRI) is a success story in Bolivia, where poverty is concentrated in the 35 percent of the population that is rural and generally unserved by formal financial institutions. In the past two years, World Council of Credit Unions, Inc. (WOCCU) has helped open eight such branches as part of its four-year, $2.2 million project funded by the U.S. Agency for International Development (USAID) to expand access to financial services to Boliva's economically active rural population.
At the CACTRI home office in Trinidad – an hour away by plane – manager Mary Aixa Muñoz Cuellar explains that the credit union felt compelled to open the San Borja branch office ten years ago "to contribute to the well-being of the region. So many people depend on their small businesses to live, but how can their businesses survive if they don't have a good way to save and borrow?"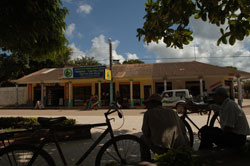 San Borja branch office of Cooperativa de Ahorro y Credito Trinidad
WOCCU works with 21 credit unions in Bolivia, boasting a portfolio of $224 million in savings and $211.8 million in loans and serving 378,391 member-clients. With 82 collective service points, these credit unions form one of the largest financial networks in the country. Forty-two service points are currently connected through "ServiRed," the intersystem network designed by WOCCU to facilitate shared branching and remittance services.
During 2005, ServiRed processed nearly 1700 shared branching transactions, including deposits, withdrawals and loan payments. Credit unions began distributing remittances through ServiRed and WOCCU's International Remittance Network (IRnet) in November 2005. The next step for remittances is extending IRnet to Spain, where at least half of international money transfers to Bolivia originate.
Development of the internet-based ServiRed network has meant that credit union members enjoy not only the convenience of shared branching transactions, but safety as well, says WOCCU-Bolivia project director Julio Fernandez. For microentrepreneurs – those people operating very small businesses – who must travel to different parts of the country to sell their products at markets, shared branching means they can now deposit through ServiRed the money they make directly into their home credit union account without risking robbery of a large sum in the days it often takes to return home.
Partnership in Action
Four years in the making, ServiRed represents an achievement possible only through collaboration. In addition to the credit unions participating in the network, the Ohio Credit Union League and Corporate One Federal Credit Union have contributed countless hours of technical expertise through WOCCU's International Partnership Program, which matches U.S. state credit union leagues with credit union movements overseas.
The Ohio Credit Union League and Corporate One have also worked with WOCCU in Bolivia to establish a corporate credit union and a training system for credit union boards.
Making an Impact
Valentina Aranibar sits comfortably in the sunny courtyard of the four-story home she built with loans from her credit union – two floors at a time. She smiles broadly when Quillacollo credit union manager Rolando Lafuente Anzoleaga asks how she is. "Very well, thanks to you," she responds.
"Doña Valentina" is a microentrepreneur several times over; her principal activity is traveling to rural farms to buy potatoes and transporting them to markets in the cities of Santa Cruz and Cochabamba to sell. On Sundays, she cooks dinner and serves the community. She takes in boarders and rents storefronts in her impressive home to local merchants. In addition to the construction loans for her home, Doña Valentina has borrowed from the credit union to capitalize her small businesses.
"The credit union, it is so good," she says. "It is safe, much help, efficient, convenient, comfortable ... they are good people there. They help the community. They help us."
World Council of Credit Unions is the global trade association and development agency for credit unions. World Council promotes the sustainable development of credit unions and other financial cooperatives around the world to empower people through access to high quality and affordable financial services. World Council advocates on behalf of the global credit union system before international organizations and works with national governments to improve legislation and regulation. Its technical assistance programs introduce new tools and technologies to strengthen credit unions' financial performance and increase their outreach.
World Council has implemented 300+ technical assistance programs in 89 countries. Worldwide, 68,882 credit unions in 109 countries serve 235 million people. Learn more about World Council's impact around the world at www.woccu.org.