Indian CU Delegation Visits North America, Discusses World Council Membership
November 21, 2006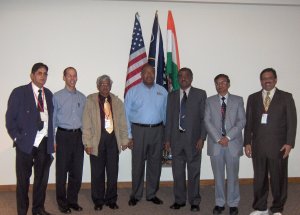 World Council CEO Pete Crear and senior manager Dave Grace with NAFCUB president, chief executive and board members.
Madison, WI—One hundred years after Edward Filene's quest to India in search of financial cooperative systems he could adapt in the US, representatives from India's National Federation of Urban Co-operative Banks & Credit Societies, Ltd. (NAFCUB) returned the visit. From November 4-17, 30 NAFCUB delegates visited the United States and Canada to expand their knowledge of the credit union system and explore the possibility of becoming a World Council member.
Throughout the trip, the group amassed valuable firsthand knowledge of corporate credit union structure and deposit insurance systems, issues at the forefront of India's urban cooperative bank movement. The delegation visited World Council and CUNA Mutual Group headquarters, Credit Union Central of Canada (CUCC), National Credit Union Administration (NCUA) in Arlington, Virginia, Wescom Credit Union in California, Community Bank of Nevada, the National Federation of Community Development Credit Unions and Lower Eastside Peoples' Federal Credit Union in New York.

(l-r) NAFCUB president B. Vijaya Kumar and chief executive D. Krishna discuss deposit insurance and retirement accounts with NCUA board member Gigi Hyland
NAFCUB representatives also visited $25 billion WesCorp Federal Credit Union in San Dimas, California—the largest of its kind in the US—to learn more about its structure. World Council is currently assisting NAFCUB to allow for the establishment of corporate credit unions in India.
In snowy Wisconsin, the group visited the World Council headquarters in Madison. There they had the opportunity to hear from World Council CEO Pete Crear, COO Brian Branch and senior manager Dave Grace, as well as CUNA vice president Mike Schenk and CUNA Mutual directors, Paul Treinen and Mike Celichowski. D. Krishna, chief executive of NAFCUB, also shared the urban cooperative bank background and system in India.
Farther north, the NAFCUB group met with CUCC in Toronto to learn more about the Canadian credit union system.
Urban cooperative banks in India are currently exploring deposit insurance systems and supervisory norms, so NAFCUB met with NCUA to learn more about financing norms and restructuring possibilities.
"With a cooperative financial system over a hundred years old and still growing, India's cooperative banks bring a wealth of knowledge to the table," Crear said. "We're excited at the prospect of collaborating more and welcoming NAFCUB as a World Council member."
India's 1,870 urban cooperative banks serve 20 million members and more than 200 million clients today, comprising what World Council believes to be the largest financial cooperative system in the world. In addition to providing technical support World Council is also working with NAFCUB to help urban cooperative banks reclaim their tax exempt status, which was overturned earlier this year.
World Council of Credit Unions is the global trade association and development agency for credit unions. World Council promotes the sustainable development of credit unions and other financial cooperatives around the world to empower people through access to high quality and affordable financial services. World Council advocates on behalf of the global credit union system before international organizations and works with national governments to improve legislation and regulation. Its technical assistance programs introduce new tools and technologies to strengthen credit unions' financial performance and increase their outreach.
World Council has implemented 300+ technical assistance programs in 89 countries. Worldwide, 68,882 credit unions in 109 countries serve 235 million people. Learn more about World Council's impact around the world at www.woccu.org.