Inicio > Sala de Noticias > Boletines Noticiosos



May 3, 2016
Sala de Noticias // Boletines Noticiosos
08 de marzo de 2007
International Partnership Focuses on the Importance of Foundations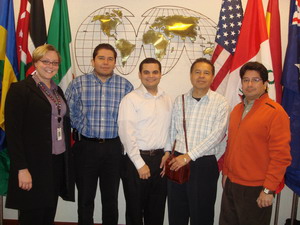 l-r: Michelle Kramer, WOCCU international partnership assistant; Paolo Lezama, board member, Caja Libertad; Victor Corro, WOCCU international partnership manager, Hugo Bustamante, vice president of member relations, Caja Libertad; and César Izurieta, executive vice president of marketing for Caja Libertad pose for a photo by the Mexican flag at World Council offices in Madison, WI.
Madison, WI— A delegation from Caja Libertad, the second largest credit union in Mexico, visited credit union foundations in the United States this week as part of the World Council of Credit Unions' International Partnership between World Council, Caja Libertad and the Arizona Credit Union System. The delegation learned about state, national and international foundations and the impact the have to help them in establishing their own foundation.
The Mexican delegation included: Paolo Lezama, vice president of operations; Hugo Bustamante, president of the education directive and board member and César Izurieta, director of marketing. As a WOCCU Supporter, Caja Libertad funds international credit union development. In this trip, the Caja Libertad representatives evaluated the potential for establishing a foundation to expand the philanthropic work the institution supports within Mexico.
Hugo Bustamante noted, "We currently fund financial literacy programs, health and wellness activities, programs that help to keep our cooperative culture alive and numerous community reinvestment initiatives. But, we think we can do more, through a separate foundation."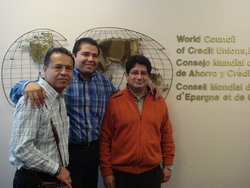 Caja Libertad delegation
The group first met with the Arizona Credit Union System to learn about the basics of fundraising. Sandy Watts, marketing and communications director of the Arizona Credit Union System explained, "We discussed key topics like who decides how to spend funds and why, the grant request system, the organizational structure, legal status and their foundation's history." Watts also shared success stories and challenges foundations deal with when starting out. During the exchange the group also toured Arizona Federal Credit Union and Desert Schools Federal Credit Union.
In Madison, Wisconsin, World Council's Worldwide Foundation funds manager, Valerie Breunig, shared her perspective on the importance of organizational structure, the benefits a foundation provides and how to find donors. Breunig worked through potential business strategies with the Caja Libertad representatives, reviewed their goals and spoke in depth on how to raise funds.
The group also met with Kris Hoffman Ackley, the National Credit Union Foundation's director of donor relations and received an in-depth view of fundraising on the national level in the United States and discussed investment funds, fundraising, and putting your money where your mission is.
The group concluded their meetings in the United States at Selfreliance Ukrainian American Federal Credit Union in Chicago, Illinois, where CEO Bohdan Watral and his staff members spoke about their community reinvestment activities.
El Consejo Mundial de Cooperativas de Ahorro y Crédito es la asociación gremial y agencia de desarrollo para el sistema internacional de cooperativas de ahorro y crédito. El Consejo Mundial promueve el crecimiento sustentable de las cooperativas de ahorro y crédito y otras cooperativas financieras en todo el mundo a fin de facultar a las personas para que mejoren su calidad de vida a través del acceso a servicios financieros asequibles y de alta calidad. El Consejo Mundial realiza esfuerzos de defensa activa en representación del sistema global de las cooperativas de ahorro y crédito ante organizaciones internacionales y trabaja con gobiernos nacionales para mejorar la legislación y la regulación. Sus programas de asistencia técnica introducen nuevas herramientas y tecnologías para fortalecer el desempeño financiero de las cooperativas de ahorro y crédito y profundizar su alcance comunitario.
El Consejo Mundial ha implementado 290 programas de asistencia técnica en 71 países. A nivel mundial, 57,000 cooperativas de ahorro y crédito en 105 países atienden a 217 millones de personas. Obtenga más información sobre el impacto global del Consejo Mundial en www.woccu.org.

Contacto principal:
Rebecca Carpenter
Correo electrónico:
rcarpenter@woccu.org
Teléfono:
+1-608-395-2031