International Partnership Lobbies for Specific Panama CU Legislation
Iowa Credit Union League Meets with Ambassador of Panama in Washington, DC
March 02, 2007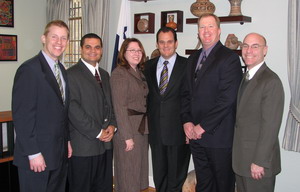 Iowa Credit Union League and World Council of Credit Union representatives pose with the Ambassador of Panama after meetings at the Panama Embassy in Washington, DC. Above l-r: Murray Williams, Victor Corro, Kimberly Johnston, Ambassador Federico Humbert, Pat Drennen and Pat Jury.
Madison, WI—As part of the World Council of Credit Unions' (WOCCU) International Partnership, representatives from WOCCU and the Iowa Credit Union League met with the Ambassador of Panama, Federico Humbert; trade attaché, Diego Ferrer; and legal counselor, Isabel Fernandez this week to lobby for credit union specific legislation for Panamanian credit unions.
The credit union delegation consisted of Iowa Credit Union League CEO, Pat Jury; vice president Murray Williams; ICUL board member and 1st Gateway Credit Union CEO, Pat Drennen; along with World Council staff: Victor Corro, international partnership manager; Barry Lennon, senior manager, Washington, DC office and Kim Johnston, marketing and communication officer.
Discussions highlighted the impact the International Partnership has made over the last two years, while helping to strengthening its partner, COFEP and focused on the need to introduce specific legislation in the Panamanian Parliament that would create direct oversight and specific regulations for credit unions.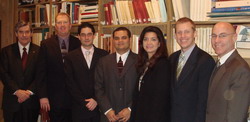 l-r: Barry Lennon, Pat Drennen, Diego Ferrer, Victor Corro, Isabel Fernandez, Murray Williams and Pat Jury conclude their meeting.
Credit union specific regulation is the primary focus for the Iowa-Panama International Partnership in 2007. "The goal of regulating the Panamanian credit union industry in a way that resembles WOCCU's Model Law will only strengthen the credit union system, and ultimately benefit the member," said Mr. Corro.
Mr. Jury explained, "Iowa's position is to help Panama's credit unions with training and implementation aspects to get them ready for new legislation." "We have already spoken with high ranking officials in the Panama government regarding WOCCU's Model Credit Union Law and it's our belief that not only is credit union specific legislation necessary, we also feel strongly that financial cooperatives should be regulated by a financial entity," Mr. Jury continued.
Although Panama is one of the international banking centers and banks operate in a highly regulated environment, the government does not view or regulate credit unions as financial institutions.
When Attache Ferrer inquired about the benefits that the Iowa League receives from the partnership, Mr. Drennen explained, "Credit unions are cooperative in nature, its part of our philosophy. However, this is a collaborative partnership and we get as much out of it as we are putting in." Since signing the International Partnership the Iowa league has added a division to better serve the underserved market of its membership base.
At the conclusion of the meeting Attaché Ferrer shared that he would present a letter written by the Iowa Credit Union League regarding regulation to the Superintendent of Banks, Mr. Barrelier during his visit to Washington, DC next week.
For more information on World Council of Credit Unions International Partnership Program, please contact Victor Corro at vcorro@woccu.org or (608) 231-7834.
World Council of Credit Unions is the global trade association and development agency for credit unions. World Council promotes the sustainable development of credit unions and other financial cooperatives around the world to empower people through access to high quality and affordable financial services. World Council advocates on behalf of the global credit union system before international organizations and works with national governments to improve legislation and regulation. Its technical assistance programs introduce new tools and technologies to strengthen credit unions' financial performance and increase their outreach.
World Council has implemented 300+ technical assistance programs in 89 countries. Worldwide, 68,882 credit unions in 109 countries serve 235 million people. Learn more about World Council's impact around the world at www.woccu.org.