International Visitors from Peru and WOCCU
International Visitors From Peru and WOCCU Visit League Member Credit Unions
February 10, 2006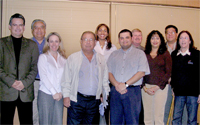 L-R: Kinecta FCU VP Information Technology Juan Luna, Manuel Rabines, Kinecta FCU Vice President of Marketing Kathryn Davis, Enrique Miyasato, Kinecta FCU Vice President of Business and Community Development Nicole Valentin-Smith, Victor Corro, Kinecta FCU Interim President and CFO John Carson, Vice Prsident of Retail Operations Charmaine Velez, Miguel Hatada, and Kinecta FCU Vice President of Communications Nancy Task
ABACO CU's Chairman of the Board Enrique Miyasato and Vice Chairman Miguel Hatada, National Federation of Credit Unions in Peru (FENACREP) CEO and World Council of Credit Union's (WOCCU) Board Treasurer Manuel Rabines, and WOCCU International Partnerships Manager Victor Corro recently visited credit unions in California.
The group met with various credit unions to learn about products and services, lending, credit scoring, marketing, collections, risk management, investments, branch management, shared branching, community outreach programs, and how the credit unions demonstrate and promote the credit union difference.
ABACO CU was established in 1981 and is the largest credit union in Peru. The credit union currently holds more than $69 million in assets and serves more than 6,200 members. It is interesting to note that ABACO CU's Enrique Miyasato and Miguel Hatada were born in Peru, but are of Japanese descent. In Peru, there is a large population of Peruvian Japanese who speak Spanish and Japanese. The international visitors requested to visit credit unions that serve predominantly Japanese Americans and a large credit union in the Torrance area that offers shared branching.

L-R: Victor Corro, Miguel Hatada, League International Relations Manager Letty Cordon-Hernandez, JACOM CU CEO Ken Takemoto, Enrique Miyasato, Manuel Rabines, and JACOM CU Branch Manager Chris Hatanaka
The international visitors first visited JACOM CU where they met with CEO Ken Takemoto and Branch Manager Chris Hatanaka. The following day, they visited Nikkei CU and met with CEO Erick Orellana and two Nikkei CU board members, Sho Matsumi and Byron Yoshida. The guests also attended Nikkei CU's annual meeting that evening, which had an overwhelming attendance of more than 400 Nikkei members.
On the final day of their trip, they visited Kinecta FCU and met with Interim President and CFO John Carson, VP Retail Services Mel Calloway, VP Marketing Kathryn Davis, VP Information Technology Juan Luna, AVP Security and Administrative Services Patti Perez, VP Communications Nancy Tack, VP Finance Mary Torsney, VP Business and Community Development Nicole Valentin-Smith, and VP Retail Operations Charmaine Velez.
Miyasato, Hatada, Rabines, and Corro said their visits with the League member credit unions were thoroughly informative and proved to be extremely beneficial. The visitors were very impressed with the information they received and expressed their sincere appreciation for the assistance provided by the League and its member credit unions.
World Council of Credit Unions is the global trade association and development agency for credit unions. World Council promotes the sustainable development of credit unions and other financial cooperatives around the world to empower people through access to high quality and affordable financial services. World Council advocates on behalf of the global credit union system before international organizations and works with national governments to improve legislation and regulation. Its technical assistance programs introduce new tools and technologies to strengthen credit unions' financial performance and increase their outreach.
World Council has implemented 300+ technical assistance programs in 89 countries. Worldwide, 68,882 credit unions in 109 countries serve 235 million people. Learn more about World Council's impact around the world at www.woccu.org.