Iowa CU Leaders Hosts Panamanian Delegates
April 07, 2006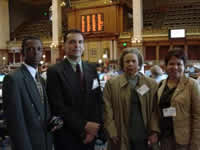 COFEP delegation poses for a photo during a visit to Iowa law makers.
The Iowa Credit Union League (ICUL) hosted a delegation from the trade and service enterprise company for credit unions in Panama, COFEP, this week. The primary focus of the trip was to sign a formal commitment between the organizations, setting them on the path to a long and mutually beneficial relationship.
In addition to formalizing the international partnership agreement, the Panamanian delegation had the opportunity to learn about ICUL and credit union operations in Iowa.
During the first day the group attended the ICUL Serving the Underserved Summit in Des Moines in the morning and spent the afternoon at the state capitol. The group had the opportunity to meet with Justin Hupfre, vice president of Government Affairs & Internal Counsel, for a tour of Iowa's capitol building and to meet with legislators to learn about credit union lobbying activities.
The following day included a tour of the ICUL building and meetings with several staff members. Cynde Urness, senior vice president of product management, discussed The Members Group, an ICUL subsidiary, and Tom Kuehl, CEO of Iowa Corporate Central Credit Union, explained the corporate credit union structure. In the afternoon, the group visited with Jim Forney, superintendent of the Iowa Credit Union Division, at the State Regulator. Forney discussed the state and federal regulatory framework of U.S. credit unions.
ICUL Representatives used the final day to share information about ICUL's history and governance. They discussed credit union advocacy, branding, and community outreach. Mark Kilian followed with a discussion on the role of the ICUL subsidiary and community business lenders. The delegation finished off its trip by visiting two Iowa credit unions in the afternoon to learn more about how individual credit unions function in Iowa, meeting with CEO, Roger Reiser at Community Choice Credit Union, and CEO, Deborah Whittie at Blue Plans Credit Union.
World Council of Credit Unions is the global trade association and development agency for credit unions. World Council promotes the sustainable development of credit unions and other financial cooperatives around the world to empower people through access to high quality and affordable financial services. World Council advocates on behalf of the global credit union system before international organizations and works with national governments to improve legislation and regulation. Its technical assistance programs introduce new tools and technologies to strengthen credit unions' financial performance and increase their outreach.
World Council has implemented 300+ technical assistance programs in 89 countries. Worldwide, 68,882 credit unions in 109 countries serve 235 million people. Learn more about World Council's impact around the world at www.woccu.org.