Inicio > Sala de Noticias > Boletines Noticiosos



April 30, 2016
Sala de Noticias // Boletines Noticiosos
07 de abril de 2006
Iowa CU Leaders Hosts Panamanian Delegates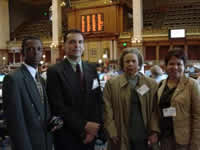 Panamanian Credit Union League (COFEP) delegation poses for a photo during a visit to Iowa law makers.
The Iowa Credit Union League (ICUL) hosted a delegation from the trade and service enterprise company for credit unions in Panama, COFEP, this week. The primary focus of the trip was to sign a formal commitment between the Leagues, setting them on the path to a long and mutually beneficial relationship.
In addition to formalizing the international partnership agreement, the Panamanian delegation had the opportunity to learn about ICUL and credit union operations in Iowa.
During the first day the group attended the ICUL Serving the Underserved Summit in Des Moines in the morning and spent the afternoon at the state capitol. The group had the opportunity to meet with Justin Hupfre, vice president of Government Affairs & Internal Counsel, for a tour of Iowa's capitol building and to meet with legislators to learn about credit union lobbying activities.
The following day included a tour of the ICUL building and meetings with several staff members. Cynde Urness, senior vice president of product management, discussed The Members Group, an ICUL subsidiary, and Tom Kuehl, CEO of Iowa Corporate Central Credit Union, explained the corporate credit union structure. In the afternoon, the group visited with Jim Forney, superintendent of the Iowa Credit Union Division, at the State Regulator. Forney discussed the state and federal regulatory framework of U.S. credit unions.
ICUL Representatives used the final day to share information about ICUL's history and governance. They discussed credit union advocacy, branding, and community outreach. Mark Kilian followed with a discussion on the role of the ICUL subsidiary and community business lenders. The delegation finished off its trip by visiting two Iowa credit unions in the afternoon to learn more about how individual credit unions function in Iowa, meeting with CEO, Roger Reiser at Community Choice Credit Union, and CEO, Deborah Whittie at Blue Plans Credit Union.
El Consejo Mundial de Cooperativas de Ahorro y Crédito es la asociación gremial y agencia de desarrollo para el sistema internacional de cooperativas de ahorro y crédito. El Consejo Mundial promueve el crecimiento sustentable de las cooperativas de ahorro y crédito y otras cooperativas financieras en todo el mundo a fin de facultar a las personas para que mejoren su calidad de vida a través del acceso a servicios financieros asequibles y de alta calidad. El Consejo Mundial realiza esfuerzos de defensa activa en representación del sistema global de las cooperativas de ahorro y crédito ante organizaciones internacionales y trabaja con gobiernos nacionales para mejorar la legislación y la regulación. Sus programas de asistencia técnica introducen nuevas herramientas y tecnologías para fortalecer el desempeño financiero de las cooperativas de ahorro y crédito y profundizar su alcance comunitario.
El Consejo Mundial ha implementado 290 programas de asistencia técnica en 71 países. A nivel mundial, 57,000 cooperativas de ahorro y crédito en 105 países atienden a 217 millones de personas. Obtenga más información sobre el impacto global del Consejo Mundial en www.woccu.org.

Contacto principal:
Rebecca Carpenter
Organización:
World Council of Credit Unions
Correo electrónico:
rcarpenter@woccu.org
Teléfono:
+1-608-395-2031