Iowa League, CUs Explore Issues with Counterparts in Panama
March 03, 2008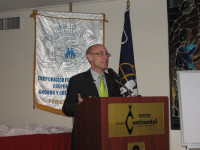 At the Third International Seminar on Best Practices in Credit Union Operations, Pat Jury talks about the league's role in facilitating growth in Iowa credit unions and fields some question from the audience. Photo courtesy of ICUL.
PANAMA CITY, Panama—Iowa Credit Union League (ICUL) executives and CEOs from three member credit unions traveled to Panama last week to help their counterparts in the Central American country address some of the issues facing Panamanian growth and development, particularly issues relating to regulation.
The meeting was the latest in the ongoing relationship between ICUL and Corporación Fondo de Estabilización y Garantía de Cooperativas de Ahorro y Crédito de Panamá, R.L. (COFEP), brought together three years ago through World Council of Credit Unions' (WOCCU's) International Partnerships program. WOCCU has assisted in the drive for credit union-specific legislation in Panama and shared branching for its credit unions since the beginning of the partnership.
"Through the years, the credit unions here have shown much interest in the areas of focus the Iowa league representatives have put forth, and they hope to continue the exchange of experiences," said COFEP CEO Jacinto Villarreal.
The Third International Seminar on Best Practices and Credit Union Operations took place February 23 in Panama City, Panama. ICUL's Pat Jury, CEO, Murray Williams, vice president and Jim Niederhauser, director of credit union growth, addressed a crowd of more than 70 people on many league-related topics. Seminar attendees learned about ICUL's role in facilitating growth of Iowa credit unions, starting for-profit ventures and subsidiaries and using them to take advantage of the economies of scale, and credit union credit risk and its effect on loan portfolio value and quality with respect to internationally accepted norms.
An addition to this year's seminar was the introduction of the CEO Panel. ICUL Chairman Pat Drennen, CEO of First Gateway Credit Union in Camanche, and ICUL board members Rick Benhart, CEO of Collins Community Credit Union in Cedar Rapids, and Mike Whittie, CEO of Federal Employees Credit Union in Des Moines, served as the panel's experts. The group fielded questions and supplied answers in a session lasting more than two hours. Topics ranged from governance, marketing issues and growth strategies to daily CEO functions and the relationship CEOs have with their boards.
This opportunity provided valuable insight for the attendees in numerous areas including regulation, one of the most important issues facing Panamanian credit unions today. The panel examined the regulatory landscape and the advantages strong regulations offer credit unions, an offshoot of previous efforts by partnership members, according to Victor Miguel Corro, WOCCU's International Partnerships manager.
"This partnership has enabled ICUL and WOCCU to work with COFEP in establishing a direct line of communication with the Panamanian government, allowing insertion of credit union industry specifics in the dialogue," said Corro. "Although a credit union-specific regulation has not yet been passed, the industry will strive to further the process and attain a fair regulatory framework for the credit unions."
Delegates from Iowa also visited five smaller credit unions to gain a greater understanding of the size, look and feel of Panamanian institutions and the services they provide. The common challenge among these smaller credit unions is evolving from closed-bond single-employer memberships to becoming open-bond community-based credit unions, a trend widespread in Panama. The delegates took special interest in the Panamanian credit unions' ability to grow youth membership through community outreach efforts.
The group also visited two credit unions that may be open to starting a direct credit union-to-credit union (CU2CU) partnership. Both the Cooperativa EDIOACC (Employees of the Panama Canal Authorities) and CACSA (Cooperativa de Ahorro y Credito San Antonio), an open-bond institution and one of Panama's largest, could be paired with Iowa credit unions to exchange ideas and capitalize on each other's expertise. Similar CU2CU relationships exist between institutions in other U.S. states and foreign countries.
"I was very satisfied and will do anything I can to support WOCCU's efforts in Panama and make sure that the movement here is strong and continues to offer these opportunities to its members," ICUL's Jury said.
World Council of Credit Unions is the global trade association and development agency for credit unions. World Council promotes the sustainable development of credit unions and other financial cooperatives around the world to empower people through access to high quality and affordable financial services. World Council advocates on behalf of the global credit union system before international organizations and works with national governments to improve legislation and regulation. Its technical assistance programs introduce new tools and technologies to strengthen credit unions' financial performance and increase their outreach.
World Council has implemented 300+ technical assistance programs in 89 countries. Worldwide, 68,882 credit unions in 109 countries serve 235 million people. Learn more about World Council's impact around the world at www.woccu.org.
NOTE: Click on photos to view/download in high resolution.