Iowa/Panama Visit Adds Cultural Twist to Cooperativeness
September 15, 2006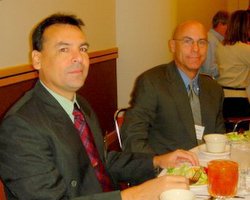 (l-r) Jacinto Villarreal, COFEP CEO, and Pat Jury, ICUL president and CEO.
Des Moines, IA—Jacinto Villarreal, CEO of Panama's credit union association (COFEP), visited the Iowa Credit Union League (ICUL) at the beginning of August for the first round of activities after signing the official International Partnerships contract in April. ICUL arranged an agenda for the CEO and his son, which included a mix of both culture and business.
Pat Jury, ICUL president and CEO, opened his home to Villarreal and his son for the weeklong visit. Not only did this give Villarreal the opportunity to witness daily life of a league CEO in the United States, but it also gave him an opportunity to practice the English he had been studying in order to better communicate with his Iowa partners. Jury ensured his guests experienced "heartland hospitality" through cultural experiences such as a ballgame, potluck and the chance to sit in on an interview with Iowa Congressman Jim Nussle.
The business side proved to be rich in experience as well, as Villarreal spoke with a variety of "experts" during his stay. Villarreal shadowed Jury throughout the week to observe how leagues sought new business opportunities within their regions.
Discussions dealt with maintaining credit union membership and league sustenance on a shrinking dues base. Warren Morrow and Max Cardenas of Diverse Innovative Solutions also discussed Hispanic outreach activities of Iowa credit unions with Villarreal. Innovative Solutions is the only consulting firm in Iowa focused on economic development in multicultural and other emerging markets. Management consultants Dianne Taylor and Jan Dietzenbach met with Villarreal to talk about credit union monitoring systems, while Murray Williams, director of strategic alliances and public affairs, joined the discussion on credit union development plans. Villarreal also visited the Iowa Corporate Central Credit Union to gain an understanding of how a central liquidity facility helps individual credit unions with their deposits and investments.
"We continue to strengthen our relationship with COFEP and the Panamanian credit union movement," Jury said, expressing his satisfaction with the ongoing partnership. "We also found time to enjoy a variety of social and cultural activities to give [Villarreal] and his son a flavor of Iowan hospitality. It was a special week for me and a way to strengthen the bond between us even further."
World Council of Credit Unions is the global trade association and development agency for credit unions. World Council promotes the sustainable development of credit unions and other financial cooperatives around the world to empower people through access to high quality and affordable financial services. World Council advocates on behalf of the global credit union system before international organizations and works with national governments to improve legislation and regulation. Its technical assistance programs introduce new tools and technologies to strengthen credit unions' financial performance and increase their outreach.
World Council has implemented 300+ technical assistance programs in 89 countries. Worldwide, 68,882 credit unions in 109 countries serve 235 million people. Learn more about World Council's impact around the world at www.woccu.org.