"It Belongs To Me" Chosen as 2008 International CU Day & Co-op Week Theme
Campaign marks first-ever joint US/Canadian effort
May 27, 2008
MADISON, Wis.—In celebration of International Credit Union (ICU) Day® on Oct. 16 and Co-op Week from Oct. 12-18, credit unions and cooperatives around the globe will share the theme "It Belongs to Me." A team of U.S. and Canadian credit union and cooperative officials picked the tagline and will be celebrating the same international theme for the first time in credit union history.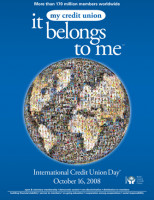 The artwork for this year's ICU Day theme features a mosaic globe with colors that are formed by photos of credit union and cooperative members from around the world. The 2008 artwork in English and Spanish will be available for download on WOCCU's Website at www.woccu.org/icuday.
"Despite facing competitive challenges in today's world, credit unions and cooperatives thrive due to their focus on serving members," said Pete Crear, president and CEO for World Council of Credit Unions (WOCCU). "In many of the countries we serve, cooperatives are not only the best way to meet members' financial needs, they're often the only way. Credit union principles must be preserved for the sake of these members and the continuing strength of the credit union movement worldwide, a recognition our joint events are designed to celebrate."
Demonstrating true cooperation, this year's theme for ICU Day and Co-op Week was chosen by WOCCU and a U.S./Canadian committee on behalf of credit unions and cooperatives worldwide. This is the first year that Canadian cooperatives have aligned their Co-op Week theme and artwork with the international theme used by WOCCU and the rest of its members worldwide.
"Co-op Week/Credit Union Day has come to be an important celebration for cooperators in Canada," said Carol Hunter, executive director of the Canadian Co-operative Association (CCA). "This year we have even more to celebrate. It is inspiring to realize that in October, tens of millions of people around the world will join together in celebrating cooperatives and credit unions under this common theme."
To promote worldwide involvement, the multinational committee invited all of its member organizations to submit suggestions for the 2008 theme. Laquita Normore, marketing and communications manager for Eagle River Credit Union in L'Anse au Loup, Newfoundland, Canada, submitted "It Belongs to Me."
"We received an overwhelming response from across the country, with some credit unions inviting all staff to offer suggestions," said David Phillips, president and CEO of Credit Union Central of Canada. "I'm delighted that the winning theme was suggested by one of our member credit unions."
While simple in phrase, this year's theme perfectly encapsulates the credit union and cooperative spirit, Normore explained. "It Belongs to Me" represents ownership, but also suggests a sense of loyalty and personal pride, she said.
Dan Mica, president and CEO of CUNA & Affiliates, agrees: "At credit unions, every customer is both a member and an owner. This year's theme celebrates the economic democracy and equal ownership rights of each credit union member regardless of how much money that member may have in savings."
"Co-op Week has been celebrated by francophones throughout Canada since 1958," said Brigitte Gagné, executive director of the Conseil Canadien de la Coopération. "Under the theme 'It Belongs to Me,' we would continue to highlight the importance of supporting the cooperative model as a lasting solution to many social and economic challenges."
ICU Day has been celebrated annually on the third Thursday of October since 1948. The celebration of Co-op Week in Canada became a national event in 1982 with the encouragement of the Co-operative Union of Canada, CCA's predecessor.
Both events provide a time and opportunity to honor those who have made great contributions to the cooperative movement, to recognize the hard work of board and staff members working on behalf of credit unions and cooperatives today, and to express appreciation to members of credit unions and cooperatives living at home and abroad.
Promotional materials and products for both ICU Day and Co-op Week will be available for purchase online in the coming months. Check WOCCU's Website at www.woccu.org/icuday for the most up-to-date information.
In the U.S., October is also designated as National Cooperative Month. Visit www.coopmonth.coop to learn about how you can support all cooperatives, including grocery, agricultural and energy co-ops, as well as credit unions.
World Council of Credit Unions is the global trade association and development agency for credit unions. World Council promotes the sustainable development of credit unions and other financial cooperatives around the world to empower people through access to high quality and affordable financial services. World Council advocates on behalf of the global credit union system before international organizations and works with national governments to improve legislation and regulation. Its technical assistance programs introduce new tools and technologies to strengthen credit unions' financial performance and increase their outreach.
World Council has implemented 300+ technical assistance programs in 89 countries. Worldwide, 68,882 credit unions in 109 countries serve 235 million people. Learn more about World Council's impact around the world at www.woccu.org.