JCCUL Consults Texas CU League on ALM Services in Jamaica
January 05, 2007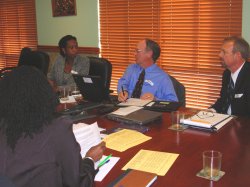 (l-r) Carmencita Soman, JCCUL supervisory examiner, Karan Fisher, JCCUL stabilization unit manager, Howard Bufe, TCUL, and Mike Delker, TCUL, discuss Texas' ALM services and how the Jamaica League could offer similar services to its member credit unions. Photo courtesy of JCCUL.
Madison, WI—Representatives from the Texas Credit Union League (TCUL) spent four days last month in Kingston, Jamaica, discussing asset/liability management (ALM) services with Jamaican Co-operative Credit Union League (JCCUL) management. The visit grew out of the leagues' International Partnership.
Mike Delker, TCUL vice president of credit union relations, and Howard Bufe, financial analyst in TCUL's ALM department, met with JCCUL management and stabilization unit staff to discuss Texas' ALM services and how Jamaica could adapt similar services and software to their market.
"Credit unions in Jamaica are going through regulatory changes which will make asset/liability management more crucial," Delker explained. "Jamaica's management staff was already very well versed in financial matters, so our visit was less an exercise in training on what ALM is but more a discussion on what we do in Texas and how they might implement the same program in their credit unions."
Delker, in his second visit with JCCUL staff in Jamaica, said that the partnership's main focus now is to adapt Texas' ALM software to serve JCCUL's needs. JCCUL plans to begin providing ALM ratio analysis to Jamaican credit unions in 2007 on an ongoing basis.
TCUL and JCCUL formed their International Partnership in 2005. Besides ALM services, the leagues have focused on advocacy efforts, establishing strategic planning and providing information on best practices in board governance and league structure. They have also formed 12 individual credit union–to–credit union partnerships based on similar membership markets and demands.
World Council of Credit Unions is the global trade association and development agency for credit unions. World Council promotes the sustainable development of credit unions and other financial cooperatives around the world to empower people through access to high quality and affordable financial services. World Council advocates on behalf of the global credit union system before international organizations and works with national governments to improve legislation and regulation. Its technical assistance programs introduce new tools and technologies to strengthen credit unions' financial performance and increase their outreach.
World Council has implemented 300+ technical assistance programs in 89 countries. Worldwide, 68,882 credit unions in 109 countries serve 235 million people. Learn more about World Council's impact around the world at www.woccu.org.