Jolette, WOCCU Board Member to Receive National Credit Union Foundation's Wegner Award
December 20, 2006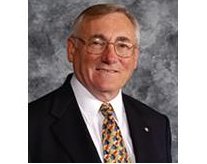 Pictured Above: Barry Jolette, World Council's 2nd Vice Chairman
Madison, WI, The National Credit Union Foundation (NCUF) announced it will bestow the Herb Wegner Award for Lifetime Achievement to Barry Jolette, World Council board member and President and CEO of San Mateo Credit Union in Redwood City, California. Jolette's award will recognize his service to the credit union movement at the local, state, national, and international levels. Among Jolette's many achievements:
·managing one of the first credit unions to successfully emerge from federal conservatorship,
·fighting to preserve his state's independent credit union regulator,
·helping to lead the nationwide campaign to pass the Credit Union Membership Access Act of 1998,
·working to spread the benefits of credit unions worldwide and
·earning "Outstanding Employer" and "Best Place to Work Awards" in his own credit union.
"We are proud that the National Credit Union Foundation is honoring Barry Jolette for his lifetime achievements and his ongoing commitment to the credit union system," noted Pete Crear, World Council CEO. Crear continued, "His commitment expands far beyond the borders of his own state of California and the United States. Barry has also played a key role at World Council as an international ambassador, helping to expand the support of World Council and credit union systems around the world."
Jolette currently serves on Credit Union National Association's World Leadership Development Committee and on the World Council board as 2nd Vice Chair. He formerly acted as World Council's Treasurer and as the Chair of the Legislation and Regulation Committee. He has also worked closely with the Worldwide Foundation in raising funds and acquiring resources for international credit union development.
"Barry's drive to make healthy and safe credit unions available to those around the world is commanding," reported WOCCU Chairman Gary Plank, President of the Arizona Credit Union System. "Barry is always in the forefront of any discussion in developing and strengthening of credit unions nationally and worldwide." Jolette intends to concentrate his energy on international efforts over the next several years.
"Barry has shared stories with me about the value of loans as small as $3 in developing countries," related James McPheters, President & CEO of California Coast CU in San Diego and Chairman of the California League. "These loans can start a business for people who as a result are able to feed, clothe, and shelter their families."
"Barry's leadership has greatly benefited WOCCU and credit unions throughout the world," added Dave Chatfield, retired California Credit Union League president. "Barry epitomizes the phrase, 'If you have an important volunteer job to be done, ask the busiest person you know...' Barry just doesn't know how to say no when asked to help a worthy cause."
Leader with a Legacy
"I had the honor and pleasure of knowing and working with Herb Wegner," concluded Chatfield, who received a Wegner Award in 1997. "I believe Barry is that special breed of unselfish leader who makes us all proud. Barry's selection for the Herb Wegner Lifetime Achievement Award would have pleased Herb very much."
Wegner Awards Lifetime achievement will be the final of three prestigious awards to be celebrated at NCUF's Herb Wegner Memorial Awards Dinner during CUNA's Governmental Affairs Conference. For more information on Barry Jolette, please visit the World Council of Credit Unions website.
World Council of Credit Unions is the global trade association and development platform for credit unions. World Council promotes the sustainable development of credit unions and other financial cooperatives around the world to empower people through access to high quality and affordable financial services. World Council advocates on behalf of the global credit union system before international organizations and works with national governments to improve legislation and regulation. Its technical assistance programs introduce new tools and technologies to strengthen credit unions' financial performance and increase their outreach.
World Council has implemented 300+ technical assistance programs in 89 countries. Worldwide, 89,026 credit unions in 117 countries serve 260 million people. Learn more about World Council's impact around the world at www.woccu.org.