Kenyan Credit Union Delegate Visits Pennsylvania Credit Union Association
May 08, 2006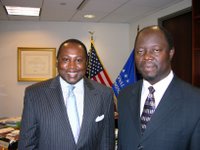 Rodney Hood, Vice Chairman of the Board at the National Credit Union Administration in Alexandria, Virginia, meets with Kenya's Patrick S. Khaemba.
The Pennsylvania Credit Union Association recently hosted Permanent Secretary Patrick S. Khaemba of the Kenya Ministry of Cooperative Development as part of their World Council of Credit Union's International Partnership. Khaemba traveled to Washington, D.C., and Pennsylvania to learn more about credit union operations in the United States and to share his experience of working with the credit union movement in Kenya.
WOCCU's Jesús Chavez accompanied Khaemba on the first day of the visit as they met with Rodney Hood, Vice Chairman of the Board at the National Credit Union Administration in Alexandria, Virginia. The visit with Hood allowed Khaemba an inside look at credit union regulation in the United States.
The National Association State Credit Union Supervisors (NASCUS) hosted Khaemba the following morning. That afternoon, Khaemba visited the Credit Union National Association (CUNA) in Washington, D.C., where CUNA staff members presented on a variety of issues central to credit union operations in the United States. The day ended with a visit to the World Council of Credit Unions' office in Washington, D.C., where Khaemba met with Anna Cora Evans, Senior Manager of Development Finance. Khaemba's warm welcome from each of the organizations' staff and leaders, combined with his enthusiasm for the visit, reinforced relationships within the credit union movement and served as an excellent opportunity for cultural exchange.
Before traveling to Pennsylvania for the remainder of the week, Khaemba met with USAID Representative Tom Carter to discuss the important role the credit union movement plays in international sustainable development. A meeting with the Pennsylvania Secretary of Banking Bill Schenck, a visit to the Pennsylvania Credit Union Association, and meetings with representatives from several Pennsylvania credit unions capped off Khaemba's weeklong stay.
The visit proved to be an excellent opportunity for exchanging ideas, discovering new operating methods, and discussing differences and similarities. It also enabled credit union and personal relationships to be strengthened. Khaemba returned to Kenya with a renewed commitment to improving and strengthening credit unions in his home country.
World Council of Credit Unions is the global trade association and development agency for credit unions. World Council promotes the sustainable development of credit unions and other financial cooperatives around the world to empower people through access to high quality and affordable financial services. World Council advocates on behalf of the global credit union system before international organizations and works with national governments to improve legislation and regulation. Its technical assistance programs introduce new tools and technologies to strengthen credit unions' financial performance and increase their outreach.
World Council has implemented 300+ technical assistance programs in 89 countries. Worldwide, 68,882 credit unions in 109 countries serve 235 million people. Learn more about World Council's impact around the world at www.woccu.org.