Kenyan Government Develops First CU Regulation with WOCCU Support
May 21, 2009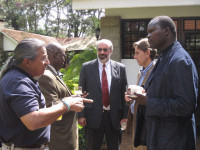 Workshop participants (left to right) Jesús Chavez, WOCCU-Kenya; Daniel Tallam, Central Bank; Brian Branch, WOCCU; David Ferrand, FSD Kenya; and Carilus Ademba, KUSCCO, share ideas about forming a regulatory agency for SACCOs.
NAIROBI, Kenya—With the world still reeling from the cascading repercussions of poorly regulated financial institutions, the Kenyan government is working to ensure it gets the rules for credit unions right the first time. Seven months after passing its first credit union law, Kenya's government is taking its initial steps toward creating effective regulations with the help of World Council of Credit Unions (WOCCU).
In November 2008, Kenya became the first country to develop a law specifically designed to regulate savings and credit cooperatives (SACCOs), as credit unions are known. Now well into 2009, a committee is underway in Kenya to develop regulations, design a regulatory agency, create model bylaws and develop a deposit guarantee fund. WOCCU last week joined the 15-person committee for a two-day workshop to set priorities and timelines to establish SACCO regulation in the country.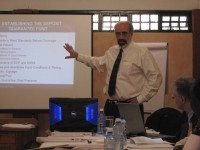 Brian Branch, WOCCU executive vice president and COO, discusses the requirements for establishing a deposit guarantee fund for SACCOs.

"WOCCU has a lot of experience working with SACCOs in Kenya and understands the strengths, challenges and opportunities that exist in the Kenyan SACCO sector," said F.F. Odhiambo, cooperative development commissioner with Kenya's Ministry of Cooperative Development and Marketing, which is involved with the technical development of the country's financial and non-financial cooperatives. "Given WOCCU's vast international experience in regulatory development, the task force invited the organization to help implement the SACCO Societies Regulatory Agency."
Brian Branch, WOCCU executive vice president and COO who helped spearhead the legislative initiative in Kenya more than six years ago, was in Nairobi last week to facilitate the workshop. WOCCU-Kenya program directors Jesús Chavez and Erick Silé joined Branch to provide an overview to the committee on the state of the SACCO sector.
"Kenya's SACCO system has grown at a tremendous rate in the past several years, but it has lacked any kind of regulatory oversight and supervision that would enable SACCOs to really evoke trust in their communities and to compete against banks and microfinance institutions," Branch said. "Passing the SACCO law was the first step in establishing a strong supervisory framework. Now the real work begins."
Kenya's SACCOs serve nearly 20% of the economically active population, a very strong penetration rate given fierce competition from banks and microfinance institutions. Some large SACCOs compete head-to-head with banks, but prior legislation prohibited them from offering some of the same services. The new law puts SACCOs on more even footing with their competitors.
During the workshop, Branch outlined recommendations in structuring and developing regulations based on WOCCU's experience assisting governments and cooperative systems in 15 countries around the globe. The committee agreed to establish a task force of consultants and representatives from Kenya's Ministry of Finance, Central Bank and WOCCU to draft regulations based on the new legislation and recommendations from the workshop.
The committee also discussed the viability of establishing a deposit guarantee fund to help protect the institutions and their members' savings. Given the current state of the SACCO sector, however, the fund would be at risk of collapsing if any large SACCO failed over the next five years. Seeing the fund as a crucial component to the system's safety and soundness, the committee proposed to solicit temporary government funding to get started.
A significant portion of the workshop was dedicated to the design and operation of a regulatory agency. The new legislation granted the establishment of a SACCO Societies Regulatory Authority, which would license deposit-taking SACCOs, regulate and supervise the institutions and manage the deposit guarantee fund. Training regulators generally takes up to three years, leading the committee to recommend that regulators be based in Nairobi rather than in the field to ensure adequate training.
Of nearly 4,000 SACCOs in Kenya, just over 200 are deposit-taking institutions, and the committee expects only about half of them will be able to comply with regulatory standards required for licensing. The law states that SACCOs have 12 months from the time of their application to become licensed. The committee seeks to amend the law so that SACCOs that have improved within a specific range will remain on track to become certified institutions.
Workshop participants included representatives from the Central Bank of Kenya, the country's Ministry of Finance, Financial Sector Deepening Kenya (an independent trust that supports the development of inclusive financial markets) and Kenya's two SACCO trade associations—Kenya Unions of Savings and Credit Co-operatives (KUSCCO) and Kenya Rural Savings and Credit Societies Union (KERUSSU). The committee will meet every two weeks to direct activities according to the established timelines until they present draft regulations to the Minister of Cooperative Development and Marketing, planned for December 2009.
For an additional perspective on the workshop and other WOCCU activities in the field, visit Branch's travel blog at http://makingadifference.posterous.com.
World Council of Credit Unions is the global trade association and development agency for credit unions. World Council promotes the sustainable development of credit unions and other financial cooperatives around the world to empower people through access to high quality and affordable financial services. World Council advocates on behalf of the global credit union system before international organizations and works with national governments to improve legislation and regulation. Its technical assistance programs introduce new tools and technologies to strengthen credit unions' financial performance and increase their outreach.
World Council has implemented 300+ technical assistance programs in 89 countries. Worldwide, 68,882 credit unions in 109 countries serve 235 million people. Learn more about World Council's impact around the world at www.woccu.org.