Kitsch, WOCCU Project Advisor Receives Award
February 24, 2004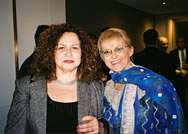 r: Lois Kitsch in traditional Afghanistan garb.
Madison, WI--Lois Kitsch, project director for World Council of Credit Unions, Inc. (WOCCU) recently received the Herb Wegner Memorial Award for Individual Achievement during the Annual Awards Dinner, sponsored by the National Credit Union Foundation (NCUF). The event takes place annually as part of the week-long Credit Union National Association's (CUNA) Government Affairs Conference in Washington, DC.
Kitsch started her credit union career as a drive up teller in North Dakota in 1980 and later went to Florida. Today she is assisting with credit union development in war torn Afghanistan. In between she has traveled to 35 countries, working as a regional manager of Europe and Asia for the World Council.
Kitsch noted, "As a young credit union development educator I met people from Africa, which sparked my interest in international credit union development. I went to Grenada as a volunteer for WOCCU in the early 1990s. We also arranged for Grenada's credit union leaders to come to the U.S. to learn about computer technology, credit unions' vision and mission, lending and collections."
In a program video making a tribute to Kitsch one credit union leader made a kind and accurate comment noting, "She's the closest thing to a combination of Indiana Jones and Mother Teresa."

Kitsch (middle) poses with Development Educators present at the Herb Wegner Dinner
Kitsch was among two other award winners at the Herb Wegner Dinner. Pete Crear, CUNA's executive vice president of external relations received the award for Lifetime Achievement and the Filene Institute received the award for Outstanding Organization.
World Council of Credit Unions is the global trade association and development platform for credit unions. World Council promotes the sustainable development of credit unions and other financial cooperatives around the world to empower people through access to high quality and affordable financial services. World Council advocates on behalf of the global credit union system before international organizations and works with national governments to improve legislation and regulation. Its technical assistance programs introduce new tools and technologies to strengthen credit unions' financial performance and increase their outreach.
World Council has implemented 300+ technical assistance programs in 89 countries. Worldwide, 89,026 credit unions in 117 countries serve 260 million people. Learn more about World Council's impact around the world at www.woccu.org.