Inicio > Sala de Noticias > Boletines Noticiosos



April 29, 2016
Sala de Noticias // Boletines Noticiosos
24 de febrero de 2004
Kitsch, WOCCU Project Advisor Receives Award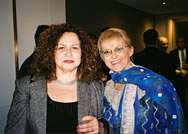 r: Lois Kitsch in traditional Afghanistan garb.
Madison, WI--Lois Kitsch, project director for World Council of Credit Unions, Inc. (WOCCU) recently received the Herb Wegner Memorial Award for Individual Achievement during the Annual Awards Dinner, sponsored by the National Credit Union Foundation (NCUF). The event takes place annually as part of the week-long Credit Union National Association's (CUNA) Government Affairs Conference in Washington, DC.
Kitsch started her credit union career as a drive up teller in North Dakota in 1980 and later went to Florida. Today she is assisting with credit union development in war torn Afghanistan. In between she has traveled to 35 countries, working as a regional manager of Europe and Asia for the World Council.
Kitsch noted, "As a young credit union development educator I met people from Africa, which sparked my interest in international credit union development. I went to Grenada as a volunteer for WOCCU in the early 1990s. We also arranged for Grenada's credit union leaders to come to the U.S. to learn about computer technology, credit unions' vision and mission, lending and collections."
In a program video making a tribute to Kitsch one credit union leader made a kind and accurate comment noting, "She's the closest thing to a combination of Indiana Jones and Mother Teresa."

Kitsch (middle) poses with Development Educators present at the Herb Wegner Dinner
Kitsch was among two other award winners at the Herb Wegner Dinner. Pete Crear, CUNA's executive vice president of external relations received the award for Lifetime Achievement and the Filene Institute received the award for Outstanding Organization.
El Consejo Mundial de Cooperativas de Ahorro y Crédito es la asociación gremial y agencia de desarrollo para el sistema internacional de cooperativas de ahorro y crédito. El Consejo Mundial promueve el crecimiento sustentable de las cooperativas de ahorro y crédito y otras cooperativas financieras en todo el mundo a fin de facultar a las personas para que mejoren su calidad de vida a través del acceso a servicios financieros asequibles y de alta calidad. El Consejo Mundial realiza esfuerzos de defensa activa en representación del sistema global de las cooperativas de ahorro y crédito ante organizaciones internacionales y trabaja con gobiernos nacionales para mejorar la legislación y la regulación. Sus programas de asistencia técnica introducen nuevas herramientas y tecnologías para fortalecer el desempeño financiero de las cooperativas de ahorro y crédito y profundizar su alcance comunitario.
El Consejo Mundial ha implementado 290 programas de asistencia técnica en 71 países. A nivel mundial, 57,000 cooperativas de ahorro y crédito en 105 países atienden a 217 millones de personas. Obtenga más información sobre el impacto global del Consejo Mundial en www.woccu.org.

Teléfono: (608) 395-2000