Inicio > Sala de Noticias > Boletines Noticiosos



May 2, 2016
Sala de Noticias // Boletines Noticiosos
15 de marzo de 2011
Last Call for WOCCU DSA Nominations
Prestigious Honor Recognizes Credit Unions' Best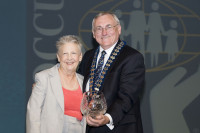 CUNA Chair Harriet May accepted her 2010 Distinguished Service Award from WOCCU Chair Barry Jolette.
MADISON, Wis. — The deadline is coming due for nominations for World Council of Credit Unions' (WOCCU) Distinguished Service Award (DSA). Nominees for the global credit union movement's most distinguished honor must be submitted to WOCCU headquarters by Friday, March 25. Recipients will be honored at WOCCU's World Credit Union Conference, scheduled for July 24-27 in Glasgow, Scotland.

DSA honors are presented to individuals and organizations that have provided exemplary service to the global credit union movement in support of the concept of improving people's lives through credit unions. WOCCU does not award the DSA every year, choosing instead to bestow the honor based on the viability and worthiness of candidates in the eyes of the awards committee.

"The Distinguished Service Award recognizes the best of the best within the credit union movement," said WOCCU Director Ron Hance, president and CEO of Heritage Family Credit Union in Rutland, Vt., and chair of the WOCCU Awards Committee. "Our hope is that DSA will continue to foster excellence in service among credit union individuals and organizations worldwide."

In 2010, DSA honors were awarded to Lech Kaczyński, the deceased president of Poland who was central in helping establish the country's credit union movement; CUNA Chair Harriet May, president and CEO of GECU of El Paso (Texas); and Credit Union Executives Society (CUES), the Madison, Wis.-based professional development organization for credit union executives.

"We're not an island unto ourselves, something I realized as I reached out to our neighbor to the south, working in ways that impacted my government, my community and my country," said May upon receiving the award at the 1 Credit Union Conference in Las Vegas this past July. "If I have been one drop in the sea that lifts the life of one individual, then I have been successful."
In the case of individuals, DSA recipients may be WOCCU member organization officers, directors or representatives; international credit union pioneers; field technicians with a long and outstanding service record; or persons whose actions have benefitted global credit union development. WOCCU may present up to three individual awards in a single year.
Institutional recipients may be organizations or agencies that have provided financial or technical assistance to develop international credit union movements and their service infrastructures over an extended period of time. WOCCU presents no more than one institutional award each year.
Nominations must be made by a WOCCU member organization and are due no later than Friday, March 25, 2011. For more information on the DSA and to download a nomination form, visit www.woccu.org/recognition.
El Consejo Mundial de Cooperativas de Ahorro y Crédito es la asociación gremial y agencia de desarrollo para el sistema internacional de cooperativas de ahorro y crédito. El Consejo Mundial promueve el crecimiento sustentable de las cooperativas de ahorro y crédito y otras cooperativas financieras en todo el mundo a fin de facultar a las personas para que mejoren su calidad de vida a través del acceso a servicios financieros asequibles y de alta calidad. El Consejo Mundial realiza esfuerzos de defensa activa en representación del sistema global de las cooperativas de ahorro y crédito ante organizaciones internacionales y trabaja con gobiernos nacionales para mejorar la legislación y la regulación. Sus programas de asistencia técnica introducen nuevas herramientas y tecnologías para fortalecer el desempeño financiero de las cooperativas de ahorro y crédito y profundizar su alcance comunitario.
El Consejo Mundial ha implementado 290 programas de asistencia técnica en 71 países. A nivel mundial, 57,000 cooperativas de ahorro y crédito en 105 países atienden a 217 millones de personas. Obtenga más información sobre el impacto global del Consejo Mundial en www.woccu.org.

NOTA: Oprima el botón del mouse sobre las fotografías para verlas/descargarlas en alta resolución.
Contacto principal:
Rebecca Carpenter
Organización:
World Council of Credit Unions
Correo electrónico:
rcarpenter@woccu.org
Teléfono:
+1-608-395-2031