Lawmaker Gives Credit Unions Kudos on Remittances
CUNA NEWS NOW
May 18, 2007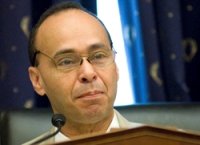 House Domestic and International Monetary Policy, Trade, and Technology Subcommittee Chairman Luis Gutierrez (D-Ill.) thanked credit unions for providing low-cost financial alternatives. Photo courtesy of CUNA.
Washington, DC—During a hearing to investigate Americans' access to remittance services, Rep. Luis Gutierrez (D-Ill.) thanked credit unions for what they do to provide services to citizens who have difficulty gaining access to mainstream financial services.
Gutierrez, who is chairman of the House Financial Services subcommittee on domestic and international monetary policy, trade and technology, also criticized bank fees—especially those levied on "those who can least afford it."
In the course of the subcommittee's Thursday hearing entitled "Remittances: Access, Transparency, and Market Efficiency—A Progress Report," Gutierrez said, "Banks these days are pretty good with fees—and they always go up."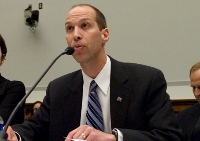 WOCCU Vice President of Association Services David Grace testifies on behalf of CUNA and WOCCU during a May 17 congressional hearing on remittances. Photo courtesy of CUNA.
He added that banks recognize a customer's "economic ability" and level of financial sophistication and can waive fees if such charges might inspire a customer to move his or her funds.
Gutierrez said he wants the same financial opportunities for all Americans.
Testifying on behalf of World Council of Credit Unions (WOCCU) and the Credit Union National Association (CUNA), WOCCU Vice President of Association Services David Grace explained to lawmakers what credit unions are doing to drive down costs and increase delivery opportunities for foreign-born individuals in the United States who want to send money to family members in their home countries.
Grace said WOCCU research has shown, for instance, that 62% of those receiving remittances in Guatemala would be living on less than US$1 a day if it weren't for the funds sent home.
CUNA and WOCCU offer credit unions a remittance product called IRnet® (International Remittance Network), that offers safe, reliable and affordable wire transfer services to over 40 countries worldwide.
However, Grace testified, more can be done to enhance credit union abilities to provide lower cost remittance services.
He commended a recent statutory change that enabled credit unions to compete with corner grocery stores and provide check cashing and remittance services to non-members within their fields of membership.
That authority, carried in the Financial Services Regulatory Improvements Act of 2006, fosters the kind of competition that will drive down consumers' cost, according to Grace.
Another avenue to further reduce the cost of remittances, Grace said, is to ensure that credit unions and regulated microfinance institutions abroad can directly access their national payment systems and card networks.
Grace also told the subcommittee that Congress needs to restore credit unions' ability to provide small business loans to new Americans and to allow for greater service to underserved communities.
Provisions to address both these issues are included in the Credit Union Regulatory Improvements Act (CURIA, H.R. 1537). That bill, which currently boasts 86 co-sponsors, would ease the current 12.25% restriction on member business loans by raising the cap to 20%. It would also clarify the 1998 Credit Union Membership Access Act to allow all credit unions, regardless of charter type, to serve those in underserved areas.
Other witnesses at the hearing were: Tom Haider, vice president government affairs, MoneyGram International; Beatriz Ibarra, assets policy analyst, National Council of La Raza; Annette LoVoi, field director, Appleseed; James C. Orr, chairman, Microfinance International Corp; and Mark Thompson, associate general counsel, The Western Union Company.
Also on Thursday, WOCCU's Grace particpated in a monthly "after hours" discussion for staff of the US Agency for International Development (USAID), as well as for people who work in the international development field. A group of about 50 particpated in the gathering at which Grace lead a discussion on the link between remiitances and access to financial services in developing countries.
World Council of Credit Unions is the global trade association and development agency for credit unions. World Council promotes the sustainable development of credit unions and other financial cooperatives around the world to empower people through access to high quality and affordable financial services. World Council advocates on behalf of the global credit union system before international organizations and works with national governments to improve legislation and regulation. Its technical assistance programs introduce new tools and technologies to strengthen credit unions' financial performance and increase their outreach.
World Council has implemented 300+ technical assistance programs in 89 countries. Worldwide, 68,882 credit unions in 109 countries serve 235 million people. Learn more about World Council's impact around the world at www.woccu.org.