Inicio > Sala de Noticias > Boletines Noticiosos



February 14, 2016
Sala de Noticias // Boletines Noticiosos
07 de noviembre de 2005
Lech Kaczyński, a Long-term Supporter of the CU Movement, Wins Poland's Presidential Election
Lech Kaczyński, the leader of the Prawo i Sprawiedliwosc (Law and Justice) conservative party and acting mayor of Warsaw, won the second round of the Polish presidential race on October 23, 2005. With almost 55 percent of the vote, he defeated Donald Tusk of the pro-market Civic Platform party.
The newly elected President, a socially conservative politician who strongly believes in capitalism with a safety net, is also a long-term supporter of the Polish cooperative savings and credit union movement. Since the rebirth of the Polish movement in the early 1990's, he has been actively involved in the development and strengthening of the country's credit union system, with the goal of building a financial network which would provide Polish citizens with access to affordable, high-quality financial services.
President Kaczyński's relationship with credit unions first began in 1989 when he was a direct report to Lech Walesa, the former leader of Solidarity. A Polish nationalist movement, Solidarity had long struggled with the Marxist regime. Kaczyński charged one of his staff members, Grzegorz Bierecki — who is now the CEO of the national association for credit unions in Poland and a World Council board member — to find United States banks that would open in Poland. At the time Poland needed assistance with the improvement of the financial services sector. Banks in the United States were not interested, but suggested Bierecki meet with credit unions.
In 1991 World Council met with members of Solidarity, including Lech Walesa and Kaczyński, the Ministry of Finance and the Catholic Church to talk about the differences that credit unions could make in the lives of Polish and assist in the development of their country. World Council conducted credit union development programs in Poland from 1992-1999, which played a large role in the formation of the vibrant Polish credit union system of today.
Between 1990 and 1991, Lech Kaczyński was the president of the Supervisory Board of the Foundation for Polish Cooperative Savings and Credit Unions created by World Council of Credit Unions, Inc. (WOCCU) upon request from Solidarity.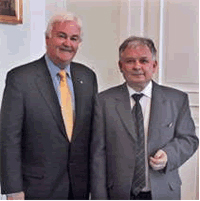 l-r: L.R. Bobby McVeigh, WOCCU board member and President Kaczynski pose together during a 2003 meeting with credit unions.
Since then, Lech Kaczyński has been committed to the development and strengthening of cooperative savings and credit unions in Poland, a commitment he has maintained throughout the years while holding various local and national government offices, such as those of a senator, a minister in the cabinet of the president of the Polish Republic, the president of the Supreme Chamber of Control, the minister of justice and, since 2002, the mayor of Warsaw.
He also participated in many national conferences organized by the Polish cooperative savings and credit unions. In 1995, in recognition of his long-term support of the cooperative savings and credit union movement, Lech Kaczyński received the Feniks Award, the most prestigious award of the Polish Cooperative Savings and Credit Union Movement, awarded annually for exceptional service.
Lech Kaczyński is also a distinguished professor of law, whose academic work involved issues related to credit cooperativism.
From the perspective of the Polish credit unions, the recent election of Lech Kaczyński as President of the Republic of Poland is the election of an individual who represents the values that mirror those of the credit union movement.
Since the 90's, Poland's credit union movement has grown rapidly and is becoming the country's largest network of financial services. By 2005, Polish credit unions have accumulated more than $1 billion USD in consumer savings. Over seventy-seven credit unions with more than 1,500 branches serve more than 1.2 million members. Savings of credit union members are insured up to 22,500 Euros, which is better protection that that offered by banks. Today, the Polish credit union system is one of the fastest growing credit union movements in the world.
"We are pleased that President Lech Kaczyński, a long-time supporter of credit unions and their initiatives, will be leading our member country into an era filled with hope and challenge. We wish him great success in his new office," noted Pete Crear, CEO, World Council of Credit Unions.
El Consejo Mundial de Cooperativas de Ahorro y Crédito es la asociación gremial y agencia de desarrollo para el sistema internacional de cooperativas de ahorro y crédito. El Consejo Mundial promueve el crecimiento sustentable de las cooperativas de ahorro y crédito y otras cooperativas financieras en todo el mundo a fin de facultar a las personas para que mejoren su calidad de vida a través del acceso a servicios financieros asequibles y de alta calidad. El Consejo Mundial realiza esfuerzos de defensa activa en representación del sistema global de las cooperativas de ahorro y crédito ante organizaciones internacionales y trabaja con gobiernos nacionales para mejorar la legislación y la regulación. Sus programas de asistencia técnica introducen nuevas herramientas y tecnologías para fortalecer el desempeño financiero de las cooperativas de ahorro y crédito y profundizar su alcance comunitario.
El Consejo Mundial ha implementado 290 programas de asistencia técnica en 71 países. A nivel mundial, 57,000 cooperativas de ahorro y crédito en 105 países atienden a 217 millones de personas. Obtenga más información sobre el impacto global del Consejo Mundial en www.woccu.org.

Teléfono: (608) 395-2000