Life After the Tsunami:
Credit Unions Rebuild and Celebrate
August 29, 2005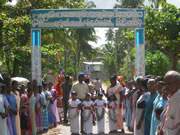 Credit union members celebrate the opening of their primary society (credit union) in Sri Lanka.
Madison, WI—After months of hardship it was a time of celebration in the southern district of Galle, one of the tsunami-affected districts in Sri Lanka. After months of organizing, five credit union buildings have been rebuilt with tsunami credit union relief funds from the World Council of Credit Unions' Worldwide Foundation for Credit Unions, Inc. (WF). In these villages the new credit union (primary society) buildings appear to be the only official buildings that have been rebuilt in the immediate area. Painted bright blue, and furnished with donated equipment, these newly constructed credit unions stood out against the backdrop of lingering debris and devastation that still affects members' lives.
Present at each opening was Martha Ninichuk, WOCCU technical officer and tsunami relief project coordinator; Bill Merrick from Credit Union Magazine; Dr. Kiriwendinya, Chairman of Sri Lanka's Federation of Thrift & Credit Cooperative Societies Ltd. (SANASA); Mr. Mangalagama, national coordinator for tsunami credit union reconstruction; Cassie Rademaekers, WOCCU program specialist, and a number of district officials.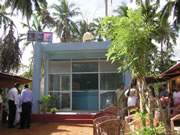 Credit union and individual donations made to WOCCU's Worldwide Foundation helped to rebuild this Galle district credit union.
Ninichuk noted, "The recovery of this credit union system would not have been possible without the generosity of individuals, credit unions, leagues and other national credit union systems around the world." She continued, "In turn these credit unions are helping members to rebuild their lives. They provide hope to both members and the communities they serve."
Most communities had not begun the clearing of debris in earnest in April. Those destroyed primary societies that were located near the shore are prohibited from rebuilding in the same location due to a government decree prohibiting building within the 100 meters from the shore line. In some cases local communities or temples provided land for the new primary society. In other cases new land was purchased. Credit unions that have now been reconstructed are undertaking the reconstruction of records, replacement of funds that were washed away and the re-initiation of operations.
Ninichuk noted, "During the opening ceremonies members made their first deposits since the tsunami. The members were unwilling to do so until they could see the new building completed. The new building instills trust and confidence for many members." This first cluster of primary societies to be rebuilt was selected by criteria including number of active members, activeness of the board, and strategic location. Each was built based on a pre-approved standard design. Additionally, each operational primary society in the tsunami-affected area received a safe, file cabinet, and teller desk and chairs; managers' salaries were supplemented for a six month period. A plaque recognizing contributions made by the Worldwide Foundation and the international credit union community is proudly displayed at each site. More than anything these five new primary societies represent hope and the ability to move forward.
Hundreds of credit union primary societies all over Sri Lanka were completely destroyed or damaged by the tsunami that washed over major parts of Sri Lanka on December 26th, 2004. The goal of the WF-funded tsunami reconstruction plan is not only to rebuild the majority of these societies but to strengthen them as well. Along this line, SANASA has developed a series of new training programs for managers and boards.
The reconstruction program encourages mergers/consolidation where previously two or three primary societies operated where one would have better scale to support operations and efficiency. In the Ampara District 18 primary societies have decided to merge to nine, creating greater sustainability and strengthening the credit union movement within their district. The merger of the primary societies was a great accomplishment for both them and SANASA, the national association. The mergers represent the willingness of the community to work together in furthering tsunami recovery efforts.
World Council of Credit Unions is the global trade association and development agency for credit unions. World Council promotes the sustainable development of credit unions and other financial cooperatives around the world to empower people through access to high quality and affordable financial services. World Council advocates on behalf of the global credit union system before international organizations and works with national governments to improve legislation and regulation. Its technical assistance programs introduce new tools and technologies to strengthen credit unions' financial performance and increase their outreach.
World Council has implemented 300+ technical assistance programs in 89 countries. Worldwide, 68,882 credit unions in 109 countries serve 235 million people. Learn more about World Council's impact around the world at www.woccu.org.