Lutz Helps St. Lucia CUs Adapt to Changing Island Economy
Volunteer Efforts by GECU SVP/CFO the First Step in Stabilizing Agricultural Lending Efforts
April 04, 2008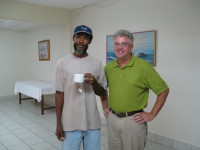 GECU's Steve Lutz (right) enjoys a break with Anthony Herman, treasurer of Choiseul Credit Union in St. Lucia.
CASTRIES, St. Lucia—When World Council of Credit Unions (WOCCU) pressed volunteer Steven Lutz into service in January, the senior vice president and CFO for GECU in El Paso, Texas, packed his bags for Kenya. However, civil strife in the African country redirected Lutz this past month to the Caribbean island of St. Lucia, where he found himself helping credit unions address their delinquency issues and adapt to changes in the island's economy.
"St. Lucia's credit unions epitomize the credit union philosophy of 'people helping people,'" said Lutz, a 30-year GECU veteran. "They offer two products—savings accounts and loans—and these services are delivered face to face by employees who do what's in the best interest of the member sitting across from them. It was inspiring to see the credit union mission alive and well."
Lutz's efforts also helped lay the groundwork for strengthening St. Lucia credit unions' capabilities in agricultural lending, part of a larger initiative that WOCCU is undertaking in conjunction with OAS Staff Federal Credit Union, the Washington, D.C. institution serving staff of the Organization of American States, and the Inter-American Institute for Cooperation on Agriculture, one of the credit union's select employee groups. Lutz's activities helped form the vanguard of a combined effort to help stabilize St. Lucia's credit unions to better serve rural farmers faced with an island economy evolving toward a stronger tourism industry.
According to WOCCU's 2006 Statistical Report, the most recent data available, St. Lucia has 19 credit unions serving nearly 60,000 people, approaching half the island nation's population. Lutz worked with three credit unions ranging in size from $3 million to $44 million in assets. One of the opportunities Lutz identified was in the area of collections.
"Loan officers know everyone in the neighborhood so when a member comes in for a loan, the employee is able to base the loan decision on character and his knowledge of the member," Lutz said. "Because of the tight-knit relationships the credit union has with its members, collecting loans becomes somewhat more difficult, in that loan officers, in trying to do the right thing, afford the member as much time as possible to make that next payment."
Lutz's visit, sponsored by WOCCU and the St. Lucia Credit Union League, enabled the country's cooperatives to tap into the CFO's financial skills. The St. Lucia League will soon be signing a partnership agreement with the Michigan Credit Union League as part of WOCCU's International Partnerships Program, bringing to 28 the number of U.S. states and Canadian provinces that have signed reciprocal support agreements with developing credit union movements.
Lutz worked directly with Saltibus Cooperative Credit Union ($3 million in assets), Choiseul Credit Union ($27 million in assets) and Laborie Cooperative Credit Union ($44 million in assets) and the league to help address St. Lucia's changing economy.
"Tourism has discovered St. Lucia," Lutz said. "Land value is increasing and developers are converting a lot of agricultural land into resort developments. Prices in general are going up. We are hopeful that our continued work through WOCCU will help the credit unions better position themselves to survive the changing landscape in San Lucia. "
The nature of the population also is changing, affecting the way credit unions do business, Lutz explained. St. Lucia credit unions offer basic savings and lending services based on familiarity of the member to credit union officials. There are no checking accounts, no ATMs and no credit bureaus to consult in determining members' creditworthiness. As the island economy expands to accommodate new industry and a potential influx of foreign workers, the credit unions' approach will have to adjust by putting more safeguards in place. "The credit unions here are very well-grounded philosophically and are trying to do the right thing. By assisting them with the development of loan collection policies and procedures, they can perform in the best interest of all members while still providing the close, personal service they are accustomed to."
"[Lutz] displayed a consummate capacity to listen, discern and analyze varying situations in a different cultural small-island setting across several rural credit unions," said Melvin Edwards, chairman of WOCCU and representative of the Caribbean Confederation of Credit Unions. "He was able to convince the leaders and employees of taking aggressive steps to minimize loan delinquency levels and make the shift to risk-based lending."
Lutz's visit set the stage for further development activities later this year by WOCCU and OAS FCU. The success of those efforts could have a significant impact on how farmers are able to financially bridge the growing season between the time their crops are planted and their harvests sold. WOCCU's influence through Lutz and other resources is importance to helping St. Lucia's agricultural community succeed, said Edwards.
"This technical assistance visit brought home to all the importance of belonging to the global family through World Council and pursue model credit union language to better serve members," Edwards said.


World Council of Credit Unions is the global trade association and development agency for credit unions. World Council promotes the sustainable development of credit unions and other financial cooperatives around the world to empower people through access to high quality and affordable financial services. World Council advocates on behalf of the global credit union system before international organizations and works with national governments to improve legislation and regulation. Its technical assistance programs introduce new tools and technologies to strengthen credit unions' financial performance and increase their outreach.
World Council has implemented 300+ technical assistance programs in 89 countries. Worldwide, 68,882 credit unions in 109 countries serve 235 million people. Learn more about World Council's impact around the world at www.woccu.org.