Inicio > Sala de Noticias > Boletines Noticiosos



May 2, 2016
Sala de Noticias // Boletines Noticiosos
24 de abril de 2006
Massachusetts Credit Union League Hosts Visit From Bahamas Cooperative League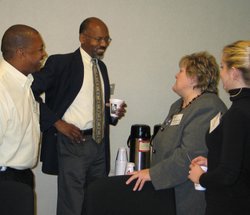 Francis Davis and Bruce Delancey chat with Marilyn Gambardella and Michelle Martin of Harvard University Employees Credit Union
Less than one year after officially signing the WOCCU International Partnership agreement, the Massachusetts Credit Union League and the Bahamas Cooperative League have successfully shared branding, awareness and marketing materials in an effort to raise the credit union profile in the Bahamas. Representatives from both Leagues have worked diligently to ensure the success of the partnership. Most recently, the Massachusetts Credit Union League hosted Francis Davis and Bruce Delancey, representatives of the Bahamas Cooperative League.
During their visit, Davis and Delancey were able to visit several credit unions and gain valuable insight into credit union operations in Massachusetts. They will be able to further promote the goals of the partnership program by sharing this insight with credit unions in the Bahamas.
On their first day in Massachusetts, they met with Credit Union Marketers during a Credit Union Brand Seminar Luncheon at the Massachusetts League Headquarters. After the Seminar, Davis and Delancey met with EverythingCU.com's Morris Partee to discuss particular branding challenges and opportunites encountered by credit unions in the Bahamas.
The second day of the visit included a tour of the Boston Firefighters Credit Union and a meeting with CEO Bernie Winne to discuss marketing, branding and other strategic credit union issues. Davis and Delancey also visited the Harvard University Employees Credit Union and met with CEO Gene Foley over lunch at the Harvard Faculty Club.
In addition to being extremely informative for both parties, the visit proved to be an excellent opportunity to cement their relationship, ensuring the continuation of a mutually beneficial relationship into the future.
El Consejo Mundial de Cooperativas de Ahorro y Crédito es la asociación gremial y agencia de desarrollo para el sistema internacional de cooperativas de ahorro y crédito. El Consejo Mundial promueve el crecimiento sustentable de las cooperativas de ahorro y crédito y otras cooperativas financieras en todo el mundo a fin de facultar a las personas para que mejoren su calidad de vida a través del acceso a servicios financieros asequibles y de alta calidad. El Consejo Mundial realiza esfuerzos de defensa activa en representación del sistema global de las cooperativas de ahorro y crédito ante organizaciones internacionales y trabaja con gobiernos nacionales para mejorar la legislación y la regulación. Sus programas de asistencia técnica introducen nuevas herramientas y tecnologías para fortalecer el desempeño financiero de las cooperativas de ahorro y crédito y profundizar su alcance comunitario.
El Consejo Mundial ha implementado 290 programas de asistencia técnica en 71 países. A nivel mundial, 57,000 cooperativas de ahorro y crédito en 105 países atienden a 217 millones de personas. Obtenga más información sobre el impacto global del Consejo Mundial en www.woccu.org.

Contacto principal:
Rebecca Carpenter
Correo electrónico:
rcarpenter@woccu.org
Teléfono:
+1-608-395-2031