MatchSavings.org Gives Everyone Opportunity to Combat Poverty
New WOCCU Web Site Matches Givers with Savers in Developing Countries
February 18, 2009
MADISON, Wis.—When tough financial times hit prosperous countries, the ripple effect is widespread. Difficult times call for back-to-basics measures, and families are discovering financial security in personal savings rather than debt. Building on the importance of savings, World Council of Credit Unions (WOCCU) has launched MatchSavings.org to give the general public an opportunity to combat global poverty in a new way-by matching the savings deposits of the poor in the developing world.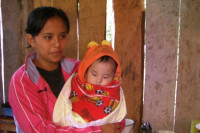 Celia Ortiz Ramos, a housewife and mother of one, is saving to repair drafty wooden walls in her kitchen. MatchSavings.org Givers will help her achieve the goal sooner by providing a savings match.
Despite the critical need for personal savings, the poor in developing countries are more likely to have access to loans than to basic savings accounts. As tough economic times hit the developed world, foreign aid to developing countries is declining, fewer immigrants can afford to send funds home and employment opportunities are disappearing. As the cost of living continues to rise, the need for reliable savings becomes increasingly vital.
People living in poverty are desperate to find affordable and accessible alternatives to cover necessary expenses like basic home repair, their children's education, start-up expenses for a microbusiness and healthcare. A formal credit union savings account and a match incentive help working poor families develop regular savings habits, build assets and attain financial independence.
"Savings are about building wealth," explained Brian Branch, WOCCU executive vice president and chief operating officer, in a recent video interview (view). "Families are able to and want to build their savings because that provides them with a way to finance their own growth."
MatchSavings.org builds on WOCCU's successful development programs worldwide. The first group of MatchSavings.org Savers are from rural Mexico, where WOCCU is helping credit unions deliver financial services by motorcycle, bus, boat and foot, directly to marginalized communities.
Here's how MatchSavings.org works.
Savers open their first savings account at one of WOCCU's partner credit unions in a developing country (currently rural Mexico). Savers establish a six-month savings goal and commit to make regular monthly deposits.
Givers go to MatchSavings.org, choose which types of savings accounts they want to match (housing, education, microbusiness or health) and make a donation.
At the end of the saving period, Savers receive the Givers' match on their savings principal, realize their savings goal and become members of a trusted credit union that will help them reach their financial goals in the future.
As the effects of the economic downturn ripple across borders, Givers at MatchSavings.org create a counter-effort. Their generosity allows the poor to lift themselves out of poverty through their own dignified efforts and helps them get on a solid path for future.
As MatchSavings.org grows, WOCCU will expand the program to reach more people, communities and countries through its global network of credit unions. Help spread the word through your credit union, service groups, social networks, friends and family. For more information and to make a donation, visit www.MatchSavings.org.
World Council of Credit Unions is the global trade association and development agency for credit unions. World Council promotes the sustainable development of credit unions and other financial cooperatives around the world to empower people through access to high quality and affordable financial services. World Council advocates on behalf of the global credit union system before international organizations and works with national governments to improve legislation and regulation. Its technical assistance programs introduce new tools and technologies to strengthen credit unions' financial performance and increase their outreach.
World Council has implemented 300+ technical assistance programs in 89 countries. Worldwide, 68,882 credit unions in 109 countries serve 235 million people. Learn more about World Council's impact around the world at www.woccu.org.