McVeigh Addresses Canadian Credit Unions
--Reappointed As Delegate to World Council of Credit Unions
May 26, 2005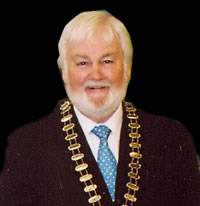 L. R. (Bobby) McVeigh, WOCCU board chairman
Madison, WI—L.R. (Bobby) McVeigh, World Council of Credit Unions, Inc. (WOCCU) board chairman, encouraged Canadian credit unions to continue their commitment to international credit union development in a speech at the Canadian Central of Canada's (CUCC) Annual General Meeting in Saskatoon, Saskatchewan last week. Click to view full speech.
In his speech McVeigh stated, "For individuals in the developed world, like here in Canada, our wants can be many, but our actual needs are few. There is extreme poverty and despair visible everyday in the world. We need to look inside our community to see, 'How can we help?'" McVeigh encouraged credit unions to participate in International Partnerships between credit unions and leagues - sharing individual skills, by becoming a WOCCU Supporter, individually, or through your credit union or Central.
McVeigh continued, "We are part of a global family with 123 million credit union members belonging to over 40,000 credit unions in 84 different countries. I challenge you to think cooperatively and ask what it is that you can do to assist in international credit union development."
Using a comparison of the price of two cups of coffee and the difference that money alone can make in countries in Africa and Asia, McVeigh highlighted the need for support. "It can feed, clothe, shelter and educate a child for a week. Canada has one of the most sophisticated credit union systems in the world. We must think beyond our own credit union and community and not forget the roots of where we started. The need is there in emerging systems and we must help as much as we can," he said.
McVeigh also highlighted the new International Partnership between British Colombia and the Hong Kong Credit Union League. He noted, "To explain the importance of this partnership, let me explain some statistics. The world population in China and India contains most of the world's poor. In the 1980s 64% of the Chinese population lived in extreme poverty - on less than one dollar a day. Partnering and helping expand credit unions in Asia is key to eliminating poverty in that region and Canadian credit unions are part of this solution!"
During the CUCC meeting McVeigh was also reappointed as a World Council Canadian delegate for another two years; elected 1st vice chairman of CUCC; elected chairman of Agra-Finance; reappointed CUCC's member of the International Program Committee of CCA; and reappointed as director of Concentra Trust.
World Council of Credit Unions is the global trade association and development platform for credit unions. World Council promotes the sustainable development of credit unions and other financial cooperatives around the world to empower people through access to high quality and affordable financial services. World Council advocates on behalf of the global credit union system before international organizations and works with national governments to improve legislation and regulation. Its technical assistance programs introduce new tools and technologies to strengthen credit unions' financial performance and increase their outreach.
World Council has implemented 300+ technical assistance programs in 89 countries. Worldwide, 89,026 credit unions in 117 countries serve 260 million people. Learn more about World Council's impact around the world at www.woccu.org.