Inicio > Sala de Noticias > Boletines Noticiosos



May 6, 2016
Sala de Noticias // Boletines Noticiosos
27 de junio de 2004
Mexican CU Leaders Join WOCCU, California, Texas & Arizona CU Leagues in DC to Meet With Lawmakers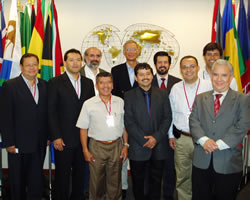 The Mexican delegation poses with WOCCU senior staff members during a meeting in Madison, WI.
Washington, D.C. – Officials from Mexico's two largest credit unions, Caja Popular Mexicana and Caja Libertad, joined World Council of Credit Unions, Inc. (WOCCU) staff and representatives of the California, Texas and Arizona credit union leagues to share their stories of successful private sector-led credit union development in Mexico. The weeklong visit concluded Thursday.
During meetings with members of Congress, the delegation asked lawmakers to support microenterprise reauthorization and ensure that the full amount authorized for microenterprise programs be appropriated for fiscal year 2005. A bill now circulating in Congress proposes a modest increase in the microenterprise budget, as well as an improved mechanism for awarding foreign assistance microenterprise funding. Microenterprise funds are distributed through the U.S. Agency for International Development (USAID) and are the source of the majority of financial support for WOCCU development finance projects.
To attest to the effectiveness of WOCCU's programs, the Mexican credit union officials explained the dramatic improvement in their operations and outreach. With two years of WOCCU's assistance, membership in Caja Popular Mexicana increased by more than 60 percent and delinquency decreased by nearly 70 percent. In only one year, Caja Libertad opened four rural microfinance branches to serve very poor women and increased vital loan loss provisions from 58 percent to 100 percent. The Mexicans credited WOCCU's technical assistance and aid from their credit union league partners through WOCCU's International Partnership Program.
Credit union league partners explained that through their partnerships with the Mexican credit unions, they gain valuable insight into the Hispanic market and how to better serve the significant unbanked immigrant population in their respective states.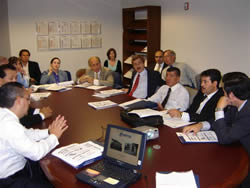 Delegation meets with the Inter-American Development Bank
During a meeting with the office of Rep. Joe Baca (D-CA), WOCCU senior manager Mark Cifuentes presented a letter of endorsement, signed by WOCCU president and CEO Arthur Arnold, for legislation introduced by Baca to empower U.S. federal credit unions to offer wire transfers, money orders and check cashing to all in their communities. Click to view letter
Caja Popular Mexicana began distributing remittances in August 2003 on a pilot basis and increased distribution to 300 branches by November. As of May 2004, more than 15,000 remittances totaling $6.6 million have been distributed. Ninety-two percent of receivers are women and the overwhelming majority of receivers are credit union members. Non-members, reports the credit union, are joining at a rate of 5 percent per month, allowing them access to a full range of financial services. Using these numbers, Cifuentes stressed the importance of Baca's efforts to remove obstacles to the flow of remittances, resulting in an infusion of money in countries targeted by the U.S. for foreign assistance.
The delegation concluded their trip in Madison, WI on Friday, meeting with World Council senior management officials.
El Consejo Mundial de Cooperativas de Ahorro y Crédito es la asociación gremial y agencia de desarrollo para el sistema internacional de cooperativas de ahorro y crédito. El Consejo Mundial promueve el crecimiento sustentable de las cooperativas de ahorro y crédito y otras cooperativas financieras en todo el mundo a fin de facultar a las personas para que mejoren su calidad de vida a través del acceso a servicios financieros asequibles y de alta calidad. El Consejo Mundial realiza esfuerzos de defensa activa en representación del sistema global de las cooperativas de ahorro y crédito ante organizaciones internacionales y trabaja con gobiernos nacionales para mejorar la legislación y la regulación. Sus programas de asistencia técnica introducen nuevas herramientas y tecnologías para fortalecer el desempeño financiero de las cooperativas de ahorro y crédito y profundizar su alcance comunitario.
El Consejo Mundial ha implementado 290 programas de asistencia técnica en 71 países. A nivel mundial, 57,000 cooperativas de ahorro y crédito en 105 países atienden a 217 millones de personas. Obtenga más información sobre el impacto global del Consejo Mundial en www.woccu.org.

Teléfono: (608) 395-2000