Mexican Government Taps WOCCU Expertise to Expand Rural Development through CUs
January 30, 2008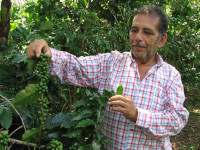 Doroteo Hernández, shown here harvesting coffee from his plantation, is president of a 100-person semilla cooperativa group through Caja Yanga, a credit union in the mountains of Huatusco, Veracruz. Hernández sought credit union services because loan sharks were charging him and members of his community exorbitant interest rates on loans.
Madison, Wis.—World Council of Credit Unions (WOCCU) has begun a US$24.8 million program to further expand rural credit union development in Mexico. The "Rural Microfinance Technical Assistance Project" builds upon two recent WOCCU programs that established 48 rural credit union branches and helped capture more than 83,000 new members in the states of Veracruz and Michoacan. The Mexican Ministry of Agriculture, Livestock, Rural Development, Fishing and Food (SAGARPA) provided funding for the three programs.
The three-year Rural Microfinance Technical Assistance Project will open new branches and points of service in rural communities of less than 15,000 people across 16 Mexican states. WOCCU will employ and enhance its proven outreach methodology called semilla cooperativa [cooperative seed] to extend rural outreach through 72 credit unions. Semilla cooperativa is an innovative group delivery approach to providing financial services, whereby field officers bring the credit union's full range of products to communities in outlying villages at least once a month.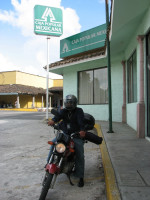 A Caja Popular Mexicana field officer in Coatepec, Veracruz, prepares to visit a semilla cooperativa group in an outlying village.
"The great achievement of WOCCU's Michoacan and Veracruz programs was that they brought financial services to places where previously there was no affordable financial access," said Luis Jara, former WOCCU program director in Veracruz and current chief of party in charge of the new program.
Just 32% of Mexico's economically active population has access to formal financial services, compared to about 80% in developed countries. In Mexico's rural areas, the figure drops to 5%. The underserved have had to turn to other lending sources, which oftentimes charge very high interest rates or don't offer products and services tailored to their needs. Semilla cooperativa is a cost-effective and convenient way to bring not only credit, but also savings opportunities to remote communities.
SAGARPA awarded WOCCU the largest amount of four organizations that received funding to expand financial services to a total of one million people living in rural areas. Besides savings and loans, the program will explore a host of innovative products and services to help bring credit union access to the underserved.
Gabriela Zapata Álvarez, SAGARPA Director of Financial Organization Strengthening through the Rural Microfinance Technical Assistance Project, praised WOCCU's proven success and expressed her confidence in the credit unions' ability to further develop Mexico's rural areas.
"Neither the size of the state, difficulty of access to marginalized areas nor diverse credit union needs have been obstacles for WOCCU's technical team," Zapata Álvarez said. "The project...successfully demonstrated that it's possible to bank the rural, marginalized poor through disciplined, qualified and safe institutions that offer financial services adapted and integrated for them."
For more information about WOCCU's development programs and work in Mexico, visit www.woccu.org.
World Council of Credit Unions is the global trade association and development agency for credit unions. World Council promotes the sustainable development of credit unions and other financial cooperatives around the world to empower people through access to high quality and affordable financial services. World Council advocates on behalf of the global credit union system before international organizations and works with national governments to improve legislation and regulation. Its technical assistance programs introduce new tools and technologies to strengthen credit unions' financial performance and increase their outreach.
World Council has implemented 300+ technical assistance programs in 89 countries. Worldwide, 68,882 credit unions in 109 countries serve 235 million people. Learn more about World Council's impact around the world at www.woccu.org.