Inicio > Sala de Noticias > Boletines Noticiosos



May 6, 2016
Sala de Noticias // Boletines Noticiosos
26 de marzo de 2004
Minnesota CU Network, CENCOPAN & WOCCU Sign Partnership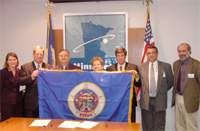 The Minnesota Credit Union Network presented the Paraguayan visitors with a Minnesota flag. L-R: Dana Hofmann-Geye, MnCUN; Kevin Chandler, MnCUN; Modesto Segovia Boltes, Ramona Ríos Medina, and Pedro Loblein, CENCOPAN; Francisco Barceló García, Cooperativa Universitaria; and Brian Branch, WOCCU.
Madison, WI – Four representatives from the Paraguayan credit union association, CENCOPAN met with members of the World Council of Credit Unions, Inc. (WOCCU) and the Minnesota Credit Union Network (MCUN) this week to sign a formal partnership agreement as part of WOCCU's Partnership Program. MCUN and CENCOPAN were paired in the fall of 2003 and this is the first meeting of the two organizations.
"We at the World Council are proud that credit union leaders from different cultures in the world like Minnesota and Paraguay have been able to find sufficient common ground to come together and sign this partnership agreement," said Arthur Arnold, President & CEO of WOCCU. "But let's be honest – what really counts is what's behind the signatures. It's really about People Helping People to help themselves. I wish this partnership every success," he added. "You are witnessing the best of what credit unions have to offer."

The three members of CENCOPAN signed the partnership agreement on Thursday. Seated, L-R: Modesto Segovia Boltes, Ramona Ríos Medina, and Pedro Loblein. Standing, L-R: MnCUN President & CEO Kevin Chandler and Arthur Arnold and Brian Branch of WOCCU
The group also held a planning session to develop a cooperative work plan that defines specific objectives for this effort. Three objectives were identified, along with specific efforts to accomplish those objectives.
1. To allow the Network Board of Directors and Network Staff to become acquainted with the Board and Staff of CENCOPAN.
· Arrange meetings in Minnesota and Paraguay to allow each to gain knowledge of each others organizations.
2. To assist the Paraguayans with legislative and regulatory development.
· Introduce the Paraguayans to the U.S. form of lobbying by bringing CENCOPAN representatives on a Hike the Hill visit to Washington, D.C., in 2004.
3. To help CENCOPAN advance in technology.
· Identify one or more "technology specialists" among Minnesota credit unions to research systems and make recommendations to CENCOPAN.
"The work plan we developed illustrates our strong commitment to this partnership and gets to the heart of our core goals with this initiative," said Kevin Chandler, Network president & CEO.
The Paraguayans were presented a Minnesota flag and Minnesota Timberwolves basketball jerseys. The CENCOPAN representatives included:
· Ramona Ríos Medina, Board Chair, CENCOPAN; · Modesto Segovia Boltes, Board Secretary, CENCOPAN; · Pedro Loblein, Board Treasurer, CENCOPAN; and · Francisco Barceló García, President, Cooperativa Universitaria.
"We are happy that we are here. Since we arrived in Minnesota on Sunday, we have felt at home," said Ramona Ríos Medina, president of CENCOPAN. "Even through we don't speak English, we are all speaking the same language today, the credit union language."
El Consejo Mundial de Cooperativas de Ahorro y Crédito es la asociación gremial y agencia de desarrollo para el sistema internacional de cooperativas de ahorro y crédito. El Consejo Mundial promueve el crecimiento sustentable de las cooperativas de ahorro y crédito y otras cooperativas financieras en todo el mundo a fin de facultar a las personas para que mejoren su calidad de vida a través del acceso a servicios financieros asequibles y de alta calidad. El Consejo Mundial realiza esfuerzos de defensa activa en representación del sistema global de las cooperativas de ahorro y crédito ante organizaciones internacionales y trabaja con gobiernos nacionales para mejorar la legislación y la regulación. Sus programas de asistencia técnica introducen nuevas herramientas y tecnologías para fortalecer el desempeño financiero de las cooperativas de ahorro y crédito y profundizar su alcance comunitario.
El Consejo Mundial ha implementado 290 programas de asistencia técnica en 71 países. A nivel mundial, 57,000 cooperativas de ahorro y crédito en 105 países atienden a 217 millones de personas. Obtenga más información sobre el impacto global del Consejo Mundial en www.woccu.org.

Teléfono: (608) 395-2000