Inicio > Sala de Noticias > Boletines Noticiosos



February 14, 2016
Sala de Noticias // Boletines Noticiosos
03 de mayo de 2006
Minnesota and Paraguay Wrap Up Credit Union Exchange Program
ST. PAUL, Minn. – Edgar Alejandro Viveros Barboza and Maria del Carmen Gonzalez Cameron boarded an airplane and returned to Paraguay on April 22 after visiting Minnesota for more than two weeks, taking part in a credit union exchange program. The exchange was coordinated by the Minnesota Credit Union Network (MnCUN) and the Paraguayan credit union organization Central de Cooperativas del Area Nacional Ltda. (CENCOPAN), who were partnered in 2004 through the World Council of Credit Union's International Partnership Program.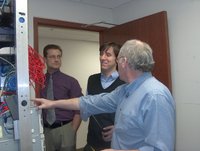 Edgar Alejandro Viveros learning at SouthPoint FCU
Early on in the partnership, technology was identified as a major area of focus. Barboza and Cameron both work within the IT department at Cooperativa Universitaria, the largest credit union in Paraguay.
After meeting with MnCUN and Mid-States Corporate Federal Credit Union employees and attending the MnCUN Annual Meeting & Convention, Barboza and Cameron each spent one week at two Minnesota credit unions to learn about American credit union technology operations. During that time, they were lodged with host families.
"I feel that this was a very successful program and was a great 'next step' in our partnership with CENCOPAN," said Dana Hofmann-Geye, MnCUN Executive Vice President & General Counsel. "I look forward to the second part of the exchange this fall, as we continue our mutually beneficial relationship."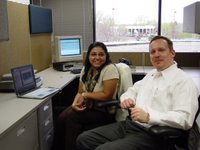 Carmen Gonzalez Cameron at Postal Credit Union in St. Paul
Barboza spent week 1 of the exchange with Affinity Plus Federal Credit Union in St. Paul and week 2 at SouthPoint Federal Credit Union in Sleepy Eye.
Dick Nesvold, President/CEO of SouthPoint FCU, was impressed with Barboza's knowledge of IT, which allowed SouthPoint to cover complex issues during the visit. Barboza even gave SouthPoint's Vice President of Operations a 46-item questionnaire to determine how and why the credit union selected its various vendors.
"To see the extent of our use of technology gave Alex a great perspective on how much more they can utilize it in Paraguay," Nesvold said, calling the exchange an overwhelming success. "He learned a lot, and the opportunity also gave us a chance to step back and evaluate our past and present technology operations."
During the SouthPoint visit, they discussed Microsoft Windows, server/network set-up, internet security, external threats, and how to mitigate risk. The credit union also spent a great deal of time covering IT policies and procedures, system upgrades, and communication between and within branches.
Barboza thought the most beneficial aspect of the visit was seeing how U.S. credit unions use technology and the various types of equipment they employ. Upon returning to Paraguay, he hopes to implement internet technology and security policies within Cooperativa Universitaria's IT department.
During Cameron's first week of the exchange, she visited Twin City Co-ops Federal Credit Union in Falcon Heights, followed by Postal Credit Union in St. Paul for week 2.
"I enjoyed learning about the technology used at Minnesota credit unions, and most importantly, meeting the amazing people. It was an incredible experience," Cameron said. "It was beneficial to make contact with the technology administrators to be able to compare it with how we do things in Paraguay.
"The exchange helped me grow professionally and improve my English," she added. "The whole experience was an investment for me and for Paraguay."
El Consejo Mundial de Cooperativas de Ahorro y Crédito es la asociación gremial y agencia de desarrollo para el sistema internacional de cooperativas de ahorro y crédito. El Consejo Mundial promueve el crecimiento sustentable de las cooperativas de ahorro y crédito y otras cooperativas financieras en todo el mundo a fin de facultar a las personas para que mejoren su calidad de vida a través del acceso a servicios financieros asequibles y de alta calidad. El Consejo Mundial realiza esfuerzos de defensa activa en representación del sistema global de las cooperativas de ahorro y crédito ante organizaciones internacionales y trabaja con gobiernos nacionales para mejorar la legislación y la regulación. Sus programas de asistencia técnica introducen nuevas herramientas y tecnologías para fortalecer el desempeño financiero de las cooperativas de ahorro y crédito y profundizar su alcance comunitario.
El Consejo Mundial ha implementado 290 programas de asistencia técnica en 71 países. A nivel mundial, 57,000 cooperativas de ahorro y crédito en 105 países atienden a 217 millones de personas. Obtenga más información sobre el impacto global del Consejo Mundial en www.woccu.org.

Contacto principal:
Kristina Wright
Organización:
Minnesota Credit Union Network
Correo electrónico:
kwright@mncun.org
Teléfono:
(651) 288-5170, (800) 477