Inicio > Sala de Noticias > Boletines Noticiosos



April 30, 2016
Sala de Noticias // Boletines Noticiosos
24 de noviembre de 2004
Minnesota tech staffer assesses Paraguay CUs, agency
CUNA News Now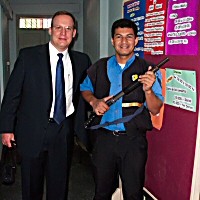 Larry Miggler, vice president of information systems, Postal CU, met with general managers, information technology staff and members of Paraguayan credit unions including Cooperativa Nazareth Ltda. Here a security official escorts him in the credit union. (Photo provided by Minnesota Credit Union Network)
ASUNCION, Paraguay - Two credit union technology experts traveled to Paraguay in October to assess Paraguayan credit union trade association Central de Cooperativas Nacionales del Paraguay (CENCOPAN) and the country's credit union regulator.
Larry Miggler, vice president of information systems, Postal CU, Woodbury, Minn., and Steve Schaefer, technical officer for Latin America and the Caribbean, World Council of Credit Unions Inc. (WOCCU), traveled to Paraguay Oct. 23-29.
CENCOPAN, four credit unions and the Instituto Nacional de Cooperativismo (INCOOP), Paraguay's regulator of credit unions and all other cooperatives, were assessed by the duo.
Miggler and Schaefer presented a two-hour workshop on the U.S. credit union movement's use of technology at the end of the visit.
"This trip was a great opportunity for me to go somewhere in the world and play a small part in developing the credit union movement," Miggler said. "It was interesting to visit another country and find out how credit unions operate 7,500 miles away from home, and as it turns out, they're run very much like they're run here."
The Minnesota Credit Union Network (MnCUN) and CENCOPAN began developing a relationship in fall 2003 through WOCCU's Partnership Program. Advancing technology in Paraguay is one of the three main objectives that the two groups. The Partnership Program provides funding for the activities.
On the first day of the trip, Miggler and Schaefer met with the employees of CENCOPAN to learn about the organization and technology overall in Paraguay.
They spent the next few days visiting Cooperativa Mercado No. 4 Ltda., Cooperativa Universitaria Ltda., Cooperativa Reducto Ltda. and Cooperativa Nazareth Ltda. At each credit union, Miggler and Schaefer talked with general managers, information technology staff and members, evaluating the general status and need of technology.
Miggler said the biggest hurdles for country- wide internet usage are slow connection speeds and high cost, making it difficult for some Paraguayan credit unions to justify the time and expense. "In the U.S. there are hundreds of technology vendors dedicated to credit unions, and they don't appear to have as much specialization in Paraguay," Miggler said, adding that the implementation of new software technology in Paraguay generally involves hiring a programmer to do customization, which increases the cost.
Miggler and Schaefer also explored implementing other WOCCU initiatives such as shared branching and the International Remittance Network (IRnet).
"We are thrilled with the Minnesota Credit Union Network and the support they have given to Paraguay," Schaefer said. "We see this as a very fruitful partnership."
El Consejo Mundial de Cooperativas de Ahorro y Crédito es la asociación gremial y agencia de desarrollo para el sistema internacional de cooperativas de ahorro y crédito. El Consejo Mundial promueve el crecimiento sustentable de las cooperativas de ahorro y crédito y otras cooperativas financieras en todo el mundo a fin de facultar a las personas para que mejoren su calidad de vida a través del acceso a servicios financieros asequibles y de alta calidad. El Consejo Mundial realiza esfuerzos de defensa activa en representación del sistema global de las cooperativas de ahorro y crédito ante organizaciones internacionales y trabaja con gobiernos nacionales para mejorar la legislación y la regulación. Sus programas de asistencia técnica introducen nuevas herramientas y tecnologías para fortalecer el desempeño financiero de las cooperativas de ahorro y crédito y profundizar su alcance comunitario.
El Consejo Mundial ha implementado 290 programas de asistencia técnica en 71 países. A nivel mundial, 57,000 cooperativas de ahorro y crédito en 105 países atienden a 217 millones de personas. Obtenga más información sobre el impacto global del Consejo Mundial en www.woccu.org.

Organización: Minnesota Credit Union Network