Inicio > Sala de Noticias > Boletines Noticiosos



April 30, 2016
Sala de Noticias // Boletines Noticiosos
08 de junio de 2006
Minnesotans Address AGM in Paraguay, Meet with Regulator
MnCUN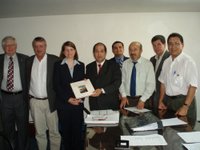 MnCUN's Dana Hofmann-Geye presents INCOOP President Antonio Ortiz Guanes with gifts from Minnesota. Bill Raker (left) of US Federal Credit Union and Victor Corro (back) of WOCCU joined her, along with the INCOOP Board of Directors.
ASUNCIÓN, Paraguay—Nearly two months after visitors from the Paraguayan credit union organization Central de Cooperativas del Area Nacional Ltda. (CENCOPAN) attended the Minnesota Credit Union Network (MnCUN) Annual Meeting, credit union representatives from Minnesota returned the favor.
Two Minnesota credit union professionals and a representative from the World Council of Credit Unions (WOCCU) traveled to Paraguay May 27-31 to attend CENCOPAN's International Credit Union Conference and 12th anniversary celebration. Bill Raker, President of US Federal Credit Union, Dana Hofmann-Geye, MnCUN Executive Vice President & General Counsel, and Victor Corro, WOCCU's Manager of International Partnerships, spoke at the conference, met with Paraguay's credit union regulator and board of directors, and toured credit unions during their brief visit.
MnCUN and CENCOPAN were paired through WOCCU's International Partnership Program in 2004. The two credit union organizations have carried out a number of activities in the past three years, most recently conducting a credit union employee exchange program in April 2006.
"It is my honor and privilege to have the opportunity for the third consecutive year to represent Minnesota credit unions at this International Conference," said Raker, who is also a member of the MnCUN Board of Directors. "Regulation is one of the key areas in which we are able to assist the Paraguayans, and CENCOPAN and their regulator are both very appreciative of the attention and assistance we have been able to provide."
On May 29 the group met with Paraguay's credit union co-op regulator, Instituto Nacional de Cooperativismo (INCOOP). INCOOP President Antonio Ortiz Guanes and the other four individuals on its board of directors attended the meeting. The group discussed the importance of the partnership and the technology assessment performed by WOCCU and Minnesota credit unions in October 2004.
Thanks in part to that assessment two years ago, the Paraguayan government applied for and is expected receive a large loan from the Inter- American Development Bank. Funds will likely be disbursed to a number of public entities throughout the country. Any money allotted to INCOOP will be used to strengthen technology and the regulation of credit unions.
The group discussed the potential of coordinating an exchange between INCOOP and the Minnesota Department of Commerce or the National Credit Union Administration (NCUA).
"An exchange of this magnitude would be very important to the credit unions of Paraguay and is a perfect example of the great things that can be accomplished through partnerships of this sort," Hofmann-Geye said, acknowledging that the idea is still very much in a conceptual phase. "To provide a format for our regulators to exchange ideas and learn from one another could have tremendous impact."
The CENCOPAN International Credit Union Conference took place May 30-31, with 300 in attendance. All three visitors from the U.S. made presentations. Raker talked about strategic planning and its importance to credit unions. Corro spoke on WOCCU's International Partnership Program and highlighted the successes of its 23 various partnerships around the world. Hofmann- Geye discussed the role of lobbying in the success of the U.S. credit union Movement. She emphasized the benefits of a three-pronged approach to political involvement, including paid lobbyists, grassroots involvement and contributions to political action committees.
"This particular relationship between Minnesota and Paraguayan credit unions is one of the more active partnerships, as is illustrated by the great deal of activities," Corro said. "The fact that both sides have already attended and spoken at each other's annual general meetings is proof of the commitment and the progress being made."
El Consejo Mundial de Cooperativas de Ahorro y Crédito es la asociación gremial y agencia de desarrollo para el sistema internacional de cooperativas de ahorro y crédito. El Consejo Mundial promueve el crecimiento sustentable de las cooperativas de ahorro y crédito y otras cooperativas financieras en todo el mundo a fin de facultar a las personas para que mejoren su calidad de vida a través del acceso a servicios financieros asequibles y de alta calidad. El Consejo Mundial realiza esfuerzos de defensa activa en representación del sistema global de las cooperativas de ahorro y crédito ante organizaciones internacionales y trabaja con gobiernos nacionales para mejorar la legislación y la regulación. Sus programas de asistencia técnica introducen nuevas herramientas y tecnologías para fortalecer el desempeño financiero de las cooperativas de ahorro y crédito y profundizar su alcance comunitario.
El Consejo Mundial ha implementado 290 programas de asistencia técnica en 71 países. A nivel mundial, 57,000 cooperativas de ahorro y crédito en 105 países atienden a 217 millones de personas. Obtenga más información sobre el impacto global del Consejo Mundial en www.woccu.org.

Contacto principal:
Kristina Wright
Organización:
Minnesota Credit Union Network
Correo electrónico:
kwright@mncun.org
Teléfono:
(651) 288-5170, (800) 477