Inicio > Sala de Noticias > Boletines Noticiosos



May 1, 2016
Sala de Noticias // Boletines Noticiosos
24 de abril de 2006
MnCUN Welcomes International Partner CENCOPAN to Minnesota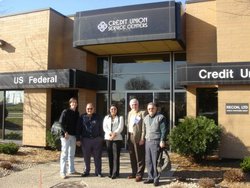 CENCOPAN delegates visiting US Federal Credit Union
The Minnesota Credit Union Network (MnCUN) and its members recently hosted representatives from CENCOPAN, its partner credit union association in Paraguay. During their visit, the CENCOPAN delegation participated in MnCUN's Annual General Meeting and had the opportunity to visit several other credit unions and learn about credit union operations in Minnesota.
The delegation's first stop in Minnesota was at Mid-States Corporate Federal Credit Union office for a presentation by the President of Minnesota Operations, Lew Lambert. The rest of the day was spent at MnCUN's headquarters, where the group met with several staff members to learn more about MnCUN's operations and the legal/regulatory framework for credit unions. The day ended with a tour of the MnCUN offices and check processing facility.
At the start of the Annual General Meeting the following day, CENCOPAN Board President Modesto Segovia Boltes discussed their partnership with Minnesota and how it has benefited CENCOPAN. After several afternoon break-out sessions, Minnesota Credit Union Foundation Board President Kristi Mukomela recognized the visitors from Paraguay and their contributions to the partnership program during a MnCUF-hosted reception.
The Meeting continued the next day with more break-out sessions and an optional tour of the Weisman Art Museum for the Paraguayan visitors. MnCUN's Annual General Meeting closed with a banquet and a fundraising event benefiting Credit Unions for Kids.
Two members of the Paraguayan delegation, Edgar Viveros and Maria del Carmen Gonzalez, extended their stay to participate in a three-week internship, allowing them an inside look at credit unions in Minnesota. Viveros and Gonzalez will stay with credit union host families and will have the opportunity to work closely with credit union staff on a daily basis during their stay. The internship will serve as an opportunity not only for professional development, but also as an important cultural exchange between Paraguay and Minnesota.
El Consejo Mundial de Cooperativas de Ahorro y Crédito es la asociación gremial y agencia de desarrollo para el sistema internacional de cooperativas de ahorro y crédito. El Consejo Mundial promueve el crecimiento sustentable de las cooperativas de ahorro y crédito y otras cooperativas financieras en todo el mundo a fin de facultar a las personas para que mejoren su calidad de vida a través del acceso a servicios financieros asequibles y de alta calidad. El Consejo Mundial realiza esfuerzos de defensa activa en representación del sistema global de las cooperativas de ahorro y crédito ante organizaciones internacionales y trabaja con gobiernos nacionales para mejorar la legislación y la regulación. Sus programas de asistencia técnica introducen nuevas herramientas y tecnologías para fortalecer el desempeño financiero de las cooperativas de ahorro y crédito y profundizar su alcance comunitario.
El Consejo Mundial ha implementado 290 programas de asistencia técnica en 71 países. A nivel mundial, 57,000 cooperativas de ahorro y crédito en 105 países atienden a 217 millones de personas. Obtenga más información sobre el impacto global del Consejo Mundial en www.woccu.org.

Contacto principal:
Rebecca Carpenter
Correo electrónico:
rcarpenter@woccu.org
Teléfono:
+1-608-395-2031