NCUF and WOCCU Announce Creation of Donor Fund
Credit Unions Can Now Support International Credit Union Development Via CIF
January 28, 2004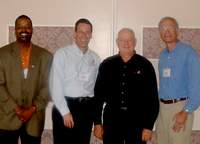 WOCCU and NCUF announced the creation of the International CIF at the AACUL meeting in Naples, FL. l-r: Gary Officer, NCUF executive director; Chuck Purvis, NCUF chairman; Gary Plank, WOCCU 1st vice chairman and Arthur Arnold, WOCCU president and CEO.
Madison, WI-Madison, WI—The National Credit Union Foundation (NCUF) and the World Council of Credit Unions, Inc. (WOCCU) recently signed an agreement to establish the International Development Fund (IDF), a donor-designated fund through the Community Investment Fund (CIF). The IDF will directly support international credit union development through WOCCU.
The signing took place at the American Association of Credit Union Leagues' conference in Naples, Florida last week in the presence of NCUF chairman, Chuck Purvis and WOCCU's 1st vice chairman, Gary Plank.
The newly established fund is a unique investment option for those interested in supporting international credit union development. As with all CIF investments, interest generated by the IDF will be split between the investing credit union, NCUF and the credit union foundation or league in the state of investment origin; NCUF's portion of the return will be directed into the IDF for use by World Council. Many states are also using their own returns from the CIF to support international credit union partnerships.
Gary Officer, executive director, NCUF noted, "I look at this as a win-win for the Foundation and World Council. International development wins because of the new funds generated to support worthwhile acts around the globe. At the same time it helps propel the Foundation towards its $1 billion CIF goal." Officer continued, "I am thrilled with this partnership and the opportunity to bring new investors into CIF. It's also an opportunity for current CIF participants to increase their level of investment in support of international development."
Funds raised by the IDF will help educate credit union employees and volunteers; conduct internship programs and exchange visits of international credit union leaders; build international credit union partnerships and provide public education initiatives related to consumer finance. Funding also will assist with IRnet (International Remittance Network) installations of member credit unions outside of the United States.
Arthur Arnold, WOCCU president and CEO explained, "Investing in the CIF fund specifically for international credit union development allows U.S. credit unions to continue to support World Council's efforts to provide quality credit unions for everyone." Arnold continued, "We look forward to working with NCUF and U.S. credit unions in raising development funds."
Credit unions who wish to participate in this donor-designated fund within the Community Investment Fund should contact their corporate credit union to invest in CIF. Credit unions then must contact Kris Hoffman, NCUF manager of donor relations, to designate their investment in the IDF. Click to view form. For more information on the Community Investment Fund please contact Kris Hoffman at 608-231-4397 or khoffman@cuna.coop.
Click to view the attached form.
World Council of Credit Unions is the global trade association and development agency for credit unions. World Council promotes the sustainable development of credit unions and other financial cooperatives around the world to empower people through access to high quality and affordable financial services. World Council advocates on behalf of the global credit union system before international organizations and works with national governments to improve legislation and regulation. Its technical assistance programs introduce new tools and technologies to strengthen credit unions' financial performance and increase their outreach.
World Council has implemented 300+ technical assistance programs in 89 countries. Worldwide, 68,882 credit unions in 109 countries serve 235 million people. Learn more about World Council's impact around the world at www.woccu.org.