Inicio > Sala de Noticias > Boletines Noticiosos



May 1, 2016
Sala de Noticias // Boletines Noticiosos
28 de enero de 2004
NCUF and WOCCU Announce Creation of Donor Fund
Credit Unions Can Now Support International Credit Union Development Via CIF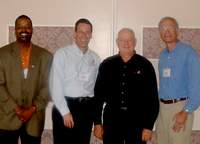 WOCCU and NCUF announced the creation of the International CIF at the AACUL meeting in Naples, FL. l-r: Gary Officer, NCUF executive director; Chuck Purvis, NCUF chairman; Gary Plank, WOCCU 1st vice chairman and Arthur Arnold, WOCCU president and CEO.
Madison, WI-Madison, WI—The National Credit Union Foundation (NCUF) and the World Council of Credit Unions, Inc. (WOCCU) recently signed an agreement to establish the International Development Fund (IDF), a donor-designated fund through the Community Investment Fund (CIF). The IDF will directly support international credit union development through WOCCU.
The signing took place at the American Association of Credit Union Leagues' conference in Naples, Florida last week in the presence of NCUF chairman, Chuck Purvis and WOCCU's 1st vice chairman, Gary Plank.
The newly established fund is a unique investment option for those interested in supporting international credit union development. As with all CIF investments, interest generated by the IDF will be split between the investing credit union, NCUF and the credit union foundation or league in the state of investment origin; NCUF's portion of the return will be directed into the IDF for use by World Council. Many states are also using their own returns from the CIF to support international credit union partnerships.
Gary Officer, executive director, NCUF noted, "I look at this as a win-win for the Foundation and World Council. International development wins because of the new funds generated to support worthwhile acts around the globe. At the same time it helps propel the Foundation towards its $1 billion CIF goal." Officer continued, "I am thrilled with this partnership and the opportunity to bring new investors into CIF. It's also an opportunity for current CIF participants to increase their level of investment in support of international development."
Funds raised by the IDF will help educate credit union employees and volunteers; conduct internship programs and exchange visits of international credit union leaders; build international credit union partnerships and provide public education initiatives related to consumer finance. Funding also will assist with IRnet (International Remittance Network) installations of member credit unions outside of the United States.
Arthur Arnold, WOCCU president and CEO explained, "Investing in the CIF fund specifically for international credit union development allows U.S. credit unions to continue to support World Council's efforts to provide quality credit unions for everyone." Arnold continued, "We look forward to working with NCUF and U.S. credit unions in raising development funds."
Credit unions who wish to participate in this donor-designated fund within the Community Investment Fund should contact their corporate credit union to invest in CIF. Credit unions then must contact Kris Hoffman, NCUF manager of donor relations, to designate their investment in the IDF. Click to view form. For more information on the Community Investment Fund please contact Kris Hoffman at 608-231-4397 or khoffman@cuna.coop.
Click to view the attached form.
El Consejo Mundial de Cooperativas de Ahorro y Crédito es la asociación gremial y agencia de desarrollo para el sistema internacional de cooperativas de ahorro y crédito. El Consejo Mundial promueve el crecimiento sustentable de las cooperativas de ahorro y crédito y otras cooperativas financieras en todo el mundo a fin de facultar a las personas para que mejoren su calidad de vida a través del acceso a servicios financieros asequibles y de alta calidad. El Consejo Mundial realiza esfuerzos de defensa activa en representación del sistema global de las cooperativas de ahorro y crédito ante organizaciones internacionales y trabaja con gobiernos nacionales para mejorar la legislación y la regulación. Sus programas de asistencia técnica introducen nuevas herramientas y tecnologías para fortalecer el desempeño financiero de las cooperativas de ahorro y crédito y profundizar su alcance comunitario.
El Consejo Mundial ha implementado 290 programas de asistencia técnica en 71 países. A nivel mundial, 57,000 cooperativas de ahorro y crédito en 105 países atienden a 217 millones de personas. Obtenga más información sobre el impacto global del Consejo Mundial en www.woccu.org.

Teléfono: (608) 395-2000