Nepal Earthquake Shakes Credit Union Services
World Council Activates Relief Fund
April 28, 2015
MADISON, Wis. — Thousands of lives have been lost following the devastating 7.9 magnitude earthquake near Nepal's capital, Kathmandu, on Saturday, April 25. The earthquake impacted 30 out of 75 districts in Nepal, one of Asia's poorest countries, including densely populated cities, dispersed rural communities and mountainous areas, sparking avalanches in the Himalayas including Mount Everest.
According to government reports, the death toll has reached 4,600, and is expected to grow. As aftershocks continue to shake the region, World Council of Credit Unions is communicating with the Nepal Federation of Savings & Credit Cooperative Unions (NEFSCUN) and Association of Asian Confederation Credit Unions (ACCU) to activate a fundraising campaign to bring much-needed relief to staff and members of Nepalese credit unions, locally known as Savings and Credit Cooperative Societies (SACCOs).
"Credit unions from around the world have expressed the desire to help our Nepalese colleagues affected by the earthquake," said Brian Branch, World Council president and CEO. "As we have seen so many times in the past, part of what makes us a global community is our commitment to help each other in times of need."
At this time, NEFSCUN reports massive damage to financial institutions and member properties; severely impacting the ability to access services during this critical time. Much-needed cash contributions from the global credit union community will rehabilitate damaged SACCOs and benefit member lives.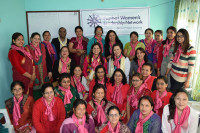 The Global Women's Leadship Network initiated Nepal's first Sister Society on April 19, 2015.
Since 1993, World Council has worked with ACCU to bring credit union best practices to Nepal. Last week, the organization's Global Women's Leadership Network initiated the country's first local Network chapter, called a "Sister Society," to advance the professional growth of credit union women in the region.
"Credit unions play a major role in providing access to finance in the most remote regions of Nepal, giving members a safe haven for savings and loans for education, healthcare, alternative energy and increased agricultural production," said Peter Graves, World Council vice president of technical services. "Our thoughts go out to all Nepalese and others living in Nepal, including credit union members, negatively impacted by this past weekend's earthquake. World Council will support Nepalese credit unions' efforts to rebuild after an initial assessment has been undertaken."
To support the rehabilitation of Nepalese credit unions, contributions can be made via check, credit card or wire. Send to:
Worldwide Foundation for Credit Unions, Inc.
5710 Mineral Point Road
Madison, WI 53705, USA
Donations can be made online today at www.woccu.org/give. For additional information, contact Calyn Ostrowski, Executive Director, Worldwide Foundation for Credit Unions, at +1-608-395-2056 or costrowski@woccu.org.
Please indicate your donation is designated for the Nepal Earthquake Relief Efforts.
World Council of Credit Unions is the global trade association and development platform for credit unions. World Council promotes the sustainable development of credit unions and other financial cooperatives around the world to empower people through access to high quality and affordable financial services. World Council advocates on behalf of the global credit union system before international organizations and works with national governments to improve legislation and regulation. Its technical assistance programs introduce new tools and technologies to strengthen credit unions' financial performance and increase their outreach.
World Council has implemented 300+ technical assistance programs in 89 countries. Worldwide, 89,026 credit unions in 117 countries serve 260 million people. Learn more about World Council's impact around the world at www.woccu.org.