New Executive Director Takes Lead at Worldwide Foundation for Credit Unions
Michael Reuter Assumes Duties at Worldwide Foundation for Credit Unions
February 04, 2018
MADISON, Wis. — The Worldwide Foundation for Credit Unions onboards a new Executive Director.
Mike Reuter joins the Worldwide Foundation for Credit Unions (WF), the official gift-receiving and field engagement arm of the World Council, as the new Executive Director. Reuter will lead the strategic vision for the Worldwide Foundation, focus on maximizing revenue opportunities, streamline operations and engage new audiences to implement specific fundraising initiatives.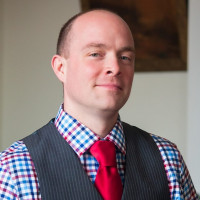 Michael Reuter, Executive Director
Worldwide Foundation for Credit Unions
"We are pleased to have Mike join the team. His experience as a strategist and visionary position him well in his new role and the path going forward for the Worldwide Foundation," said Brian Branch, World Council president and CEO.
Reuter, a nonprofit executive with more than 10 years of leadership experience, has created and executed strategic development plans, fostered donor relations with key stakeholders, cultivated support and spearheaded fundraising for capital projects through engaging storytelling.
Reuter previously served as the Executive Director of the Rock County Historical Society where he cultivated funds for society operations, capital improvements and social enterprises and doubled the operating budget, utilizing a variety of fund development channels, special programs and strategies over a five-year period. New to the credit union movement from a humanities background, Reuter brings an analytical yet personal approach to donor relations that fosters donor recognition, retention and acquisition.

World Council of Credit Unions is the global trade association and development platform for credit unions. World Council promotes the sustainable development of credit unions and other financial cooperatives around the world to empower people through access to high quality and affordable financial services. World Council advocates on behalf of the global credit union system before international organizations and works with national governments to improve legislation and regulation. Its technical assistance programs introduce new tools and technologies to strengthen credit unions' financial performance and increase their outreach.
World Council has implemented 300+ technical assistance programs in 89 countries. Worldwide, 89,026 credit unions in 117 countries serve 260 million people. Learn more about World Council's impact around the world at www.woccu.org.