New WOCCU Program Promises Financial Opportunity for Rural Haiti
July 22, 2009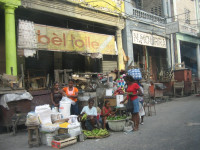 Through a new USAID-funded program, WOCCU will work with Haiti's financial institutions to bring value chain financing to the country's rural micro-, small and medium-sized businesses.
MADISON, Wis.—The U.S. Agency for International Development (USAID) has designated World Council of Credit Unions (WOCCU) as lead implementer for a three-year, US$34.4 million multi-partner program to strengthen enterprise development and promote job creation in rural Haiti. The Haiti Integrated Financing for Value Chains and Enterprises (HIFIVE) program will work with the financial sector to bring savings, credit and remittance-linked products to underserved areas of the country and provide technical training to micro-, small and medium-sized enterprises (MSMEs).
As part of the program, WOCCU will work with Haiti's financial institutions, including banks, to create affordable, yet profitable, financing options for MSMEs participating in established value chains (groups of individuals/businesses that bring a product from conception to market). WOCCU will also work with the institutions to begin offering money-transfer services and remittance-linked products, as well as expand their outreach to new service areas using technologies such as point-of-sale (POS) devices, personal digital assistants (PDAs) or cell phone banking to reduce transaction costs.
"Small businesses in rural Haiti face significant barriers to growth, yet they have great potential to drive economic development and bring new employment opportunities to their communities," said Brian Branch, WOCCU executive vice president and COO. "WOCCU's new program in Haiti will bring the necessary tools—training opportunities, business connections and financial access—right to the local entities that can effect change from the ground up."
As the poorest nation in the Western Hemisphere—80% of the population lives below the poverty line—Haiti's MSMEs are often hampered by political instability, poor infrastructure, frequent natural disasters, lack of skilled labor and limited markets. While the country has shown positive economic growth in recent years, MSMEs—especially in rural areas—are still largely excluded from the formal financial system. With 70% of financial institutions concentrated in urban settings, rural households and businesses have been forced to seek less reliable funds through expensive, informal channels.
WOCCU will adapt its value chain finance methodology, developed in Peru, to help Haitian financial institutions identify at which point financing brings value chain participants the best return and represents a good investment for the institution. WOCCU will provide technical assistance, mentor loan officers and offer specialized training to help commercial banks, microfinance institutions and cooperatives develop appropriate value chain financial products and services. WOCCU's field partner in the program, TechnoServe, will facilitate value chain linkages and technical assistance training among producers, producer associations, input suppliers and buyers.
As a core component of the program, WOCCU will manage the distribution of USAID-funded grants to local financial institutions and business service providers to encourage the development and use of new technologies, training opportunities, partnerships with other USAID-funded programs and risk management practices. The grants are meant to encourage Haiti's conservative financial sector to innovate and grow beyond their traditional markets.
WOCCU is implementing the HIFIVE program as an Academy for Educational Development (AED) sub-recipient under USAID's FIELD-Support Leader with Associates program. AED will provide oversight and documentation assistance to facilitate program activities, and Technoserve will co-implement the program with WOCCU.
World Council of Credit Unions is the global trade association and development agency for credit unions. World Council promotes the sustainable development of credit unions and other financial cooperatives around the world to empower people through access to high quality and affordable financial services. World Council advocates on behalf of the global credit union system before international organizations and works with national governments to improve legislation and regulation. Its technical assistance programs introduce new tools and technologies to strengthen credit unions' financial performance and increase their outreach.
World Council has implemented 300+ technical assistance programs in 89 countries. Worldwide, 68,882 credit unions in 109 countries serve 235 million people. Learn more about World Council's impact around the world at www.woccu.org.