Inicio > Sala de Noticias > Boletines Noticiosos



May 4, 2016
Sala de Noticias // Boletines Noticiosos
24 de agosto de 2006
New York and Puerto Rico Meet Again
NYSCUL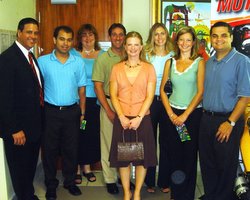 (l-r) José E. Febres Maeso, branch manager of Caribe FCU, gathers New York visitors—Juan Fernández, Tracy Conner, Michael Lanotte, Amy Kramer, Kimberly McCumber, Jennifer Montena and WOCCU's Victor Corro—for a tour of his credit union.
Latham, NY—Representatives from the New York State Credit Union League (NYSCUL) and its affiliate Covera Card Solutions visited San Juan, Puerto Rico, last week to participate in several meetings aimed at furthering an international partnership among Puerto Rican credit unions, the League, and World Council of Credit Unions (WOCCU).
While on the island, New York representatives visited Caribe Federal, Jesús Obrero and Abraham Rosa Cooperativas. Following those engagements, more than 40 participants from island credit unions participated in an informational session that explained the benefits of League membership and a variety of card programs offered by Covera that would meet the needs of their memberships.
"We couldn't have received a warmer reception or a more attentive audience than what we experienced throughout our visit to Puerto Rico," said Michael Lanotte, senior vice president and general counsel for the League. "I cannot imagine a more beneficial partnership for all parties involved given the many parallels to our credit union system and to New York and its large Hispanic population."
In addition to Lanotte, presenters from the League included: Tracy Conner, vice president, Professional Development and Member Services; Amy Kramer, vice president, Governmental Affairs, and Juan Fernández, community development coordinator.
Kim McCumber, vice president, and Jennifer Montena, director of Operations/Training, represented Covera Card Solutions. Victor Corro, WOCCU's international partnership manager, accompanied the group.
The visit expanded on a partnership discussion about business opportunities that took place last summer when representatives from Puerto Rican cooperatives visited the League with Corro. NYSCUL is one of 22 leagues participating in WOCCU's International Partnership Program.
NYSCUL has served as the trade association for the New York state's credit unions for more than 80 years. It is the fifth largest league in the country. New York credit unions have assets of more than $36 billion and more than 4.1 million members. To learn more about the League, visit www.nyscul.org.
El Consejo Mundial de Cooperativas de Ahorro y Crédito es la asociación gremial y agencia de desarrollo para el sistema internacional de cooperativas de ahorro y crédito. El Consejo Mundial promueve el crecimiento sustentable de las cooperativas de ahorro y crédito y otras cooperativas financieras en todo el mundo a fin de facultar a las personas para que mejoren su calidad de vida a través del acceso a servicios financieros asequibles y de alta calidad. El Consejo Mundial realiza esfuerzos de defensa activa en representación del sistema global de las cooperativas de ahorro y crédito ante organizaciones internacionales y trabaja con gobiernos nacionales para mejorar la legislación y la regulación. Sus programas de asistencia técnica introducen nuevas herramientas y tecnologías para fortalecer el desempeño financiero de las cooperativas de ahorro y crédito y profundizar su alcance comunitario.
El Consejo Mundial ha implementado 290 programas de asistencia técnica en 71 países. A nivel mundial, 57,000 cooperativas de ahorro y crédito en 105 países atienden a 217 millones de personas. Obtenga más información sobre el impacto global del Consejo Mundial en www.woccu.org.

Contacto principal:
Bonnie Sklar
Organización:
Credit Union Association of New York
Correo electrónico:
Bonnie.Sklar@cuany.org
Teléfono:
(800) 342-9835 ext. 8130