Nominations Open for World Council Young Credit Union Professionals Scholarship
Winners to be presented at 2018 World Credit Union Conference in Singapore
February 14, 2018
MADISON, Wis. — World Council of Credit Unions seeks nominations from its member organizations for the World Council Young Credit Union Professionals (WYCUP) scholarship program, an international networking and educational opportunity for emerging credit union leaders. Nominations are due May 31, 2018. Scholarship awards and the WYCUP program will take place at the 2018 World Credit Union Conference, July 15-18, 2018, in Singapore. New this year, the Diversity & Inclusion conference track is dedicated to leveraging opportunities to promote professional development for young leaders. Up to five recipients will be awarded WYCUP scholarships for an all-expense-paid trip to the 2019 World Credit Union Conference.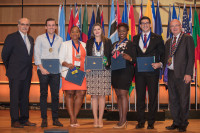 "WYCUP connects, equips and empowers young credit union leaders so that they continue to grow our global movement for years to come. We are excited to be able to offer educational sessions designed specifically for our WYCUP participants which promote professional development throughout the week as part of our annual conference this year in Singapore," said Paul Treinen, World Council COO.
To be eligible for the scholarship, nominees must:
Be 35 years of age or younger as of January 1, 2018.
Demonstrate leadership, personal commitment and the potential to significantly influence credit unions or financial cooperatives in or outside their country.
Be actively involved as an employee or volunteer with a credit union or other financial cooperative affiliated with World Council. World Council members include organizations affiliated with any national organization belonging to World Council.
Be sponsored by their credit union, credit union organization or financial cooperative to attend the 2018 World Credit Union Conference.
Submit a completed nomination form and supporting materials by Thursday, May 31, 2018.
Not have been a previous WYCUP scholarship recipient.
Not be a current World Council employee.
Conference registrants age 35 and younger qualify for a discounted registration fee and can participate in all sessions, regardless of whether or not they apply for the scholarship.
For more information, visit WYCUP. Download the WYCUP scholarship application and nomination criteria here.
World Council of Credit Unions is the global trade association and development platform for credit unions. World Council promotes the sustainable development of credit unions and other financial cooperatives around the world to empower people through access to high quality and affordable financial services. World Council advocates on behalf of the global credit union system before international organizations and works with national governments to improve legislation and regulation. Its technical assistance programs introduce new tools and technologies to strengthen credit unions' financial performance and increase their outreach.
World Council has implemented 300+ technical assistance programs in 89 countries. Worldwide, 89,026 credit unions in 117 countries serve 260 million people. Learn more about World Council's impact around the world at www.woccu.org.