Panel: Regulatory "Pendulum" Likely to Continue its Swing
Credit unions, regulators tackles tough issues at World Credit Union Conference
July 17, 2012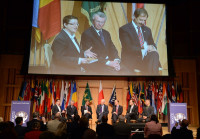 Credit union trade association executives and regulators joined together for a lively panel discussion at the World Credit Union Conference Tuesday.
GDAŃSK, Poland — The recent global financial crisis has caused the pendulum of credit union regulations to continue its swing toward more stringent oversight. But its movement can affect both credit unions and the regulators who oversee them, according to a combined panel of trade association leaders and regulators that kicked off Tuesday's general session at World Council of Credit Unions' World Credit Union Conference convening this week in Gdańsk, Poland.
Dubbed "Point Counterpoint: Finding Regulatory Balance in the Era of International Standards," the panel brought together representatives from Canada, Great Britain and the United States, representing both sides on stage at the Polish Baltic Philharmonic Hall. Panelists included David Phillips, president and CEO of Credit Union Central of Canada, and Andy Poprawa, president and CEO of the Deposit Insurance Corporation of Ontario (Canada); Mark Lyonette, chief executive of the Association of British Credit Unions Ltd., and Martin Stewart, head of U.K. Banks and Mutuals of Great Britain's Financial Services Authority; and Bill Cheney, president and CEO of Credit Union National Association, and John Kutchey, deputy executive director and chief operating officer of the National Credit Union Administration, both in the United States. World Council Secretary Louise Petschler, CEO of Abacus Australian Mutuals, moderated the panel.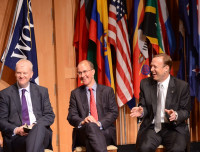 Panel participants, including (from left) Mark Lyonette and Martin Stewart, Great Britain; and Bill Cheney, USA, share a lighter moment during discussions.
Topics ranged from the International Credit Union Regulators' Network, which Poprawa chairs and World Council serves as secretariat, to the impact of Basel III and the correct balance to properly enforce financial regulations that enable credit unions to operate both safely and effectively. Both sides admitted that balance was sometimes difficult to find and maintain, with a need to differentiate between complex commercial banks and consumer-focused credit unions.
"In Great Britain, we're a small segment and we're worried we'll be swept up with other financial institutions," Lyonette said. "Fortunately, credit unions are getting good political and public support."
To some panelists, the swing away from traditional "light touch" regulations to a tougher stance raised concerns about the future of the movement.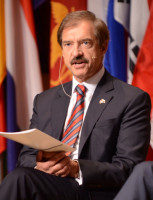 Regulators don't write the rules, they just enforce them, said Canada's Andy Poprawa.
"Credit unions aren't asking for more regulation," Cheney said. "If we continue down the path we're on without distinction between banks and credit unions, we may end up with no local financial institutions."
"Remember that regulators don't write the rules," Poprawa cautioned, speaking for regulators everywhere. "It's not us you have to convince, but your respective governments."
Regulatory impact on small start-up credit unions also warranted discussion from the group, as did the need for directors educated in a broad range of skills to provide effective oversight for their institutions. A better educated and balanced board on which members have financial services industry experience will help keep the credit union on track and moving in the direction of member service, according to Stewart.
"But let's not lose sight of the fact that credit union directors are elected by the members," said Penny Reeves, a director for Canada's Servus Credit Union and a former World Council director, who raised her question from the audience. "We can't afford to lose that democratic principle."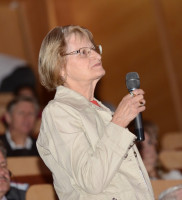 We must not lose sight of credit unions' democratic process when selecting board members, stressed audience member Penny Reeves, Canada.
All regulators on the panel agreed that credit unions got good marks during the financial crisis for helping consumers instead of turning their backs on them like many banks. The resulting good will follow credit unions well into the future, according to Kutchey.
"In the U.S., credit unions were a shining symbol of service during the financial crisis," Kutchey said. "Bank Transfer Day [Nov. 5, 2011, when 1.3 million Americans began moving their money from banks to credit unions] also had a positive outcome for credit unions."
Continued global advocacy by World Council will be critical to helping set the regulatory tone for international groups like the Basel Committee on Banking Supervision, as well as providing appropriate reference points for local regulators to better steady the regulatory pendulum from swinging too far in the wrong direction.
"In Canada, the prime minister established a body that operates on the one-to-one rule," Phillips said. "If you're going to draft a new regulation, you have to repeal an existing regulation that has similar financial impact. That speaks to the need for exercising some restraint on our regulatory burden."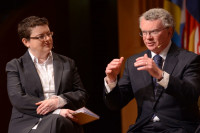 We need to exercise restraint in enacting new regulations, said Canada's David Phillips as panel moderator Louise Petschler looked on.
The day continued with breakout sessions on ethical investing, attracting members through social media, creating integrated credit union system business models and the new face of technology fraud. A special session on building the credit union brand took a look at World Council-led efforts by credit union and trade association professionals in Australia, Canada and the United States to rebrand the global credit union movement. Results from the session will be used in the next phase of the project's development process.
The 2012 World Credit Union Conference runs through July 18 and will include a closing general session presentation by Bank 2.0 author Brett King, World Council's annual awards ceremony and a closing night reception at the historic Gdańsk shipyard, the birthplace of Poland's Solidarity movement.
World Council of Credit Unions is the global trade association and development agency for credit unions. World Council promotes the sustainable development of credit unions and other financial cooperatives around the world to empower people through access to high quality and affordable financial services. World Council advocates on behalf of the global credit union system before international organizations and works with national governments to improve legislation and regulation. Its technical assistance programs introduce new tools and technologies to strengthen credit unions' financial performance and increase their outreach.
World Council has implemented 300+ technical assistance programs in 89 countries. Worldwide, 68,882 credit unions in 109 countries serve 235 million people. Learn more about World Council's impact around the world at www.woccu.org.