Philippine Cooperatives Lead Typhoon Recovery
VICTO National to Coordinate World Council Support
April 14, 2014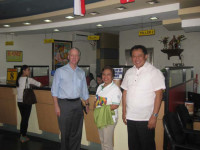 World Council SVP, Technical Services Peter Graves (left) and VICTO National CEO Renia Salinas (center) visited Metro Ormoc Community Multi-Purpose Cooperative (OCCCI) in the Philippines to learn from their CEO, Jose Mosquite (right), about Typhoon Haiyan's impact on their credit union branches and members. 
TACLOBAN CITY, Philippines — Following the Worldwide Foundation's Typhoon Haiyan reconstruction grant, World Council technical assistance staff traveled recently to the Philippines to assist with and assess the status of the organization's rebuilding efforts of significantly damaged credit unions.
World Council Senior Vice President for Technical Services Peter Graves spent two days with Renia Salinas, CEO of VICTO National Cooperative Federation Development Center, visiting affected credit unions in Tacloban City and Ormoc—both cities of the worst-affected region of Eastern Visayas—as part of World Council's post-typhoon Haiyan relief effort.
World Council determined that credit unions affiliated with VICTO National suffered the worst damage and needed assistance renovating and rehabilitating their buildings to continue serving their members.
"Although we knew employees and members of impacted credit unions would suffer the most, we also knew that it was important for disaster recovery-along with the community's confidence-to get these branches up and running as soon as possible," Graves said.
World Council has focused its relief efforts—implemented by VICTO National and in partnership with Irish League of Credit Unions and Credit Union Foundation Australia (CUFA)—on renovating and rehabbing nine of the worse-off credit unions' branches.
"VICTO National is thankful to World Council, the many people who donated money, the Irish League and CUFA for their support," Salinas said. "This grant has allowed our relief efforts to be truly comprehensive, as we hope to receive additional support to recapitalize lost credit union savings. Renovating a devastated building so important to our members is sometimes not a priority, which is a mistake."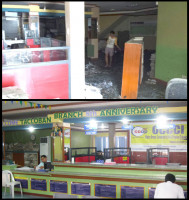 OCCCI's Tacloban branch after the typhoon (top) was able to open two weeks later (bottom), but has not yet fully recovered.
One of VICTO National's affiliated credit unions, Metro Ormoc Community Multi-Purpose Cooperative (OCCCI), had 42 branches spread out over the country's central region prior to the typhoon, serving 97,000 members with $8M in deposits. Considered one of the country's most active credit unions, OCCCI has a membership base of predominantly rice and coconut farmers and fisherfolk. Nearly 80 percent of OCCCI's members were impacted by the typhoon, according to OCCCI CEO Jose Mosquite.
"Some of our members lost loved ones along with everything else they owned, including their homes and livelihoods," said Mosquite, five months after Haiyan devastated the area and claimed over 6,000 lives in one of history's worst recorded storms. "Although nearly all 42 branches were affected by Haiyan, we were able to stay open to serve our members' needs, providing access to their savings and loans for disaster assistance."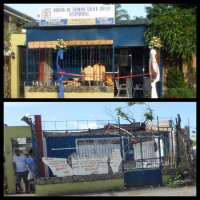 Abuyog St. Francis Xavier Credit Cooperative's Tanuan branch before (top) and after (bottom) Typhoon Haiyan.

With VICTO National's hands-on assistance and World Council's support, OCCCI and other credit unions have been able to open earlier than expected. In the rebuilding process, OCCCI plans to incorporate new hardware that will allow them to offer additional services to their members.
"Expanded services will enable us to extend our presence in the province by signing-up new members, which is necessary to offset the losses incurred from Haiyan," Mosquite said. "Many of our members have been unable to repay their loans, so attracting new members will lessen the burden on our bottom-line."
During their visit, Salinas and Graves saw firsthand that credit unions have helped rice and coconut farmers and fisherfolk return to work.
"Thank God for the security of our credit union, for without it, we would have been lost," said Irene Daya, a retiree from Tacloban City. "I never lost contact with my money and management has been willing to restructure loans, proving that their purpose is truly to help the members."
Learn more about World Council's Philippines relief efforts at www.woccu.org/philippines_relief.

World Council of Credit Unions is the global trade association and development platform for credit unions. World Council promotes the sustainable development of credit unions and other financial cooperatives around the world to empower people through access to high quality and affordable financial services. World Council advocates on behalf of the global credit union system before international organizations and works with national governments to improve legislation and regulation. Its technical assistance programs introduce new tools and technologies to strengthen credit unions' financial performance and increase their outreach.
World Council has implemented 300+ technical assistance programs in 89 countries. Worldwide, 89,026 credit unions in 117 countries serve 260 million people. Learn more about World Council's impact around the world at www.woccu.org.