Publicly Traded Polish CU Entity Raises Funds for Member ATMs, Card Ops
September 17, 2008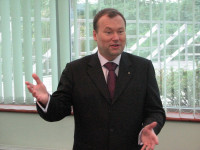 Grzegorz Bierecki, NACSCU president and WOCCU board treasurer, explains NACSCU's publicly traded credit union entity, TF SKOK, with the WOCCU delegation in Poland.

SOPOT, Poland—The National Association of Cooperative Savings and Credit Unions (NACSCU), Poland's credit union trade association, took an unconventional step to finance ATMs and credit card development programs for its members. NACSCU created the Credit Union Financial Society (TF SKOK) and, in what may be a credit union first, took the fledgling company public in June.
TF SKOK's initial public offering, trading under the ticker symbol SKOK, listed 5 million shares on the Warsaw Stock Exchange at 1 Polish złoty (about US$.42) per share. The first offering sold out quickly, raising 5 million złoty (US$2.1 million) for the NACSCU initiative. Despite being available to the general public, all of the initial shares were purchased by credit union members, according to Grzegorz Bierecki, president of NACSCU and treasurer of World Council of Credit Unions' (WOCCU) board of directors.
"We wanted to open up another method to raise capital to support Poland's credit unions," Bierecki told a WOCCU delegation of U.S. credit union and league executives visiting Poland as part of an education and advocacy engagement program. "The shares were very easy to sell."
Funds raised will help support NACSCU's ATM program, which already has 200 units in place serving credit unions across the Baltic country. The monies also will be used to strengthen the country's fledgling transaction card program, a key step in moving Poland from its current status as a cash-based society and opening up avenues for other savings and credit products.
The Warsaw Stock Exchange follows the same rigor as the New York Stock Exchange, Bierecki said, requiring stringent accounting transparency and accountability of its listed companies. Polish credit unions, as member-owned financial cooperatives, already operate in a transparent fashion, he added, and despite additional effort and a compliance cost of 5% of the funds raised (about US$42,000), going public with TF SKOK wasn't a difficult nor expensive proposition.
"Through the reports we publish on the stock exchange, it's easy to communicate what credit unions are about to potential investors and members," Bierecki said. "And we've opened the door to a new type of unrestricted capital that we can use to help underwrite Poland's credit union movement."
NACSCU considered a second offering of 5 million additional shares this fall, but decided against it due to economic uncertainties around the world, Bierecki said.
U.S. league executives participating in the WOCCU program, who will travel to Warsaw Thursday to advocate against harmful banker-proposed amendments to Poland's credit union law, admired the steps taken but were skeptical about the success of similar applications in the United States.
"The move took me by surprise, and I'm not sure what to make of it," said Joe Bergeron, president of the Association of Vermont Credit Unions. "It's definitely a non-credit union approach, and I'm not sure if that's good or bad. It's certainly an innovative approach."
Bill Cheney, president and CEO of the California & Nevada Credit Union Leagues, agreed: "You have to admire their creativity; however, the pressures in the U.S. of being a publicly held company are tremendous, and I'm not sure the tradeoff would be worth the effort or expense.
"However," Cheney added, "some would say that applying market disciplines to the credit union movement would do it a lot of good."
Joining Bergeron and Cheney on the Poland engagement program led by WOCCU executive vice president and chief operating officer Brian Branch are Barry Jolette, CEO of San Mateo Credit Union in Redwood City, Calif., and WOCCU first vice chairman; Jim McCormack, president of the Pennsylvania Credit Union Association; Mike Mercer, president of Georgia Credit Union Affiliates; Mike Schenk, vice president of economic and statistics for CUNA & Affiliates; and various WOCCU staff members.
World Council of Credit Unions is the global trade association and development agency for credit unions. World Council promotes the sustainable development of credit unions and other financial cooperatives around the world to empower people through access to high quality and affordable financial services. World Council advocates on behalf of the global credit union system before international organizations and works with national governments to improve legislation and regulation. Its technical assistance programs introduce new tools and technologies to strengthen credit unions' financial performance and increase their outreach.
World Council has implemented 300+ technical assistance programs in 89 countries. Worldwide, 68,882 credit unions in 109 countries serve 235 million people. Learn more about World Council's impact around the world at www.woccu.org.