Rapidly Growing Brazilian CU Movement Shares Growth Strategies with WOCCU Delegation
January 23, 2008
PORTO ALEGRE, Brazil — World Council of Credit Unions (WOCCU) is helping leaders from global credit union movements challenged by slow membership growth explore the successful growth strategies of the Brazilian credit union movement. The Confederação Interestadual das Cooperativas Ligadas ao, better known as SICREDI, one of the country's largest credit union systems, has averaged 15% membership growth and 30% asset growth annually for the past five years.
"The remarkable and sound growth of the SICREDI credit union system merits study by other national systems," said Brian Branch, WOCCU's executive vice president and chief operating officer. "The success of SICREDI's centralized system of staff incentives, which are based on each credit union maintaining financial performance while hitting aggressive growth targets, has lessons for us all."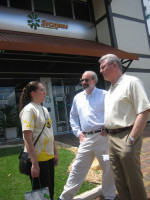 Branch is leading an international delegation studying how SICREDI maintains such impressive growth rates. WOCCU director Alcenor Pagnussatt, president of the SICREDI confederation, is hosting the delegation. Participating credit union leaders from the United States include William (Bill) DeMare, CEO of Bay Gulf Credit Union, Tampa, Fla.; Richard (Dick) Ensweiler, president and CEO of the Texas Credit Union League; Lucy Ito, vice president of research, communications and public affairs for the California & Nevada Credit Union Leagues; and Rod Staatz, president and CEO of SECU Credit Union, Baltimore, Md. WOCCU directors and officers Dan Burns, chair of Credit Union Central of British Columbia; John Gilbert, CEO of Cuscal, Ltd. of Australia; and Pete Crear, WOCCU's president and CEO also are participating in the tour.
SICREDI has successfully established a branded image of financial soundness, service quality and community outreach that has enabled its credit unions to outstrip the banks' growth in Brazil. Participants began their tour with a briefing on the vision and structure of the SICREDI system, its use of information technology and its governance structure. The week continues with credit union visits to explore system linkages to the interior of Brazil, school visits to observe youth-outreach initiatives and analysis of SICREDI's personnel management and growth-driven incentive system. The trip will conclude with a one-day consultation with a second credit union system, UNICRED, in Rio de Janeiro.
SICREDI has 129 member credit unions serving 1.2 million members through 1,013 points of service in 10 Brazilian states. The system holds US$6 billion in assets and has five state-level corporate credit unions. SICREDI members have access to more than 100 products and services, including savings, credit, utility bill payment services, insurance, currency exchange and credit cards.
UNICRED is a credit union system serving Brazil's healthcare sector. UNICRED has 135 member credit unions serving 153,440 members through 396 points of service in Brazil's 27 states. UNICRED holds US$2.2 billion in assets and has nine state-level corporate credit unions.
World Council of Credit Unions is the global trade association and development agency for credit unions. World Council promotes the sustainable development of credit unions and other financial cooperatives around the world to empower people through access to high quality and affordable financial services. World Council advocates on behalf of the global credit union system before international organizations and works with national governments to improve legislation and regulation. Its technical assistance programs introduce new tools and technologies to strengthen credit unions' financial performance and increase their outreach.
World Council has implemented 300+ technical assistance programs in 89 countries. Worldwide, 68,882 credit unions in 109 countries serve 235 million people. Learn more about World Council's impact around the world at www.woccu.org.