Reconstruction Update on Sri Lankan Credit Unions
April 18, 2005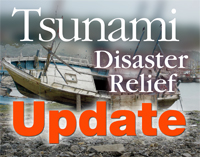 photo by: John Ikeda, WOCCU project development manager
Madison, WI- SANASA, the national credit union association in Sri Lanka has begun reconstruction of 28 primary societies (credit unions) and the regional credit union training center in the Galle district. This first group of construction includes 11 destroyed primary societies, 10 of which have to be relocated 100 meters away from the coast per new local regulations, and 18 partially destroyed societies. A total of $161,000 has been dispersed in the 1st quarter: $15,000 to support work camps for reconstruction training and $146,000 to rebuild credit unions in the Galle District.
The World Council of Credit Unions' Worldwide Credit Union Foundation and the National Credit Union Foundation has raised a combined $692,874 for the tsunami disaster relief rebuilding efforts in Sri Lanka. Brian Branch World Council CEO (interim) noted, "We are moved by the generosity of those throughout the international credit union system that reached out to help others rebuild, this is truly an example of the credit union difference."
"Reconstruction is underway, despite difficult in the region due to lack of supplies and skilled labor," noted Normunds Mizis, project manager WOCCU-Uzbekistan, who is the WOCCU staff member overseeing the disaster relief efforts.
Standard building plans include 224.6 square feet per each primary society with provisions for expansion, based of the needs of the individual society. The cost of each structure is approximately $4,500. Rebuilding also includes the provision of furniture and other equipment, such as chairs, tables, counters, cupboards, filing cabinets, iron safes, desk calculators, stationery and ledgers. In response to the loss of managers and staff, the funds also help reinstate managers and provide initial training as necessary.
Quarterly progress updates are being provided to WOCCU, and Mizis will also travel to Sri Lanka in June to evaluate the rebuilding progress and assess the state of the credit union system.
World Council of Credit Unions is the global trade association and development agency for credit unions. World Council promotes the sustainable development of credit unions and other financial cooperatives around the world to empower people through access to high quality and affordable financial services. World Council advocates on behalf of the global credit union system before international organizations and works with national governments to improve legislation and regulation. Its technical assistance programs introduce new tools and technologies to strengthen credit unions' financial performance and increase their outreach.
World Council has implemented 300+ technical assistance programs in 89 countries. Worldwide, 68,882 credit unions in 109 countries serve 235 million people. Learn more about World Council's impact around the world at www.woccu.org.