Inicio > Sala de Noticias > Boletines Noticiosos



May 5, 2016
Sala de Noticias // Boletines Noticiosos
18 de abril de 2005
Reconstruction Update on Sri Lankan Credit Unions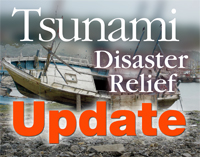 photo by: John Ikeda, WOCCU project development manager
Madison, WI- SANASA, the national credit union association in Sri Lanka has begun reconstruction of 28 primary societies (credit unions) and the regional credit union training center in the Galle district. This first group of construction includes 11 destroyed primary societies, 10 of which have to be relocated 100 meters away from the coast per new local regulations, and 18 partially destroyed societies. A total of $161,000 has been dispersed in the 1st quarter: $15,000 to support work camps for reconstruction training and $146,000 to rebuild credit unions in the Galle District.
The World Council of Credit Unions' Worldwide Credit Union Foundation and the National Credit Union Foundation has raised a combined $692,874 for the tsunami disaster relief rebuilding efforts in Sri Lanka. Brian Branch World Council CEO (interim) noted, "We are moved by the generosity of those throughout the international credit union system that reached out to help others rebuild, this is truly an example of the credit union difference."
"Reconstruction is underway, despite difficult in the region due to lack of supplies and skilled labor," noted Normunds Mizis, project manager WOCCU-Uzbekistan, who is the WOCCU staff member overseeing the disaster relief efforts.
Standard building plans include 224.6 square feet per each primary society with provisions for expansion, based of the needs of the individual society. The cost of each structure is approximately $4,500. Rebuilding also includes the provision of furniture and other equipment, such as chairs, tables, counters, cupboards, filing cabinets, iron safes, desk calculators, stationery and ledgers. In response to the loss of managers and staff, the funds also help reinstate managers and provide initial training as necessary.
Quarterly progress updates are being provided to WOCCU, and Mizis will also travel to Sri Lanka in June to evaluate the rebuilding progress and assess the state of the credit union system.
El Consejo Mundial de Cooperativas de Ahorro y Crédito es la asociación gremial y agencia de desarrollo para el sistema internacional de cooperativas de ahorro y crédito. El Consejo Mundial promueve el crecimiento sustentable de las cooperativas de ahorro y crédito y otras cooperativas financieras en todo el mundo a fin de facultar a las personas para que mejoren su calidad de vida a través del acceso a servicios financieros asequibles y de alta calidad. El Consejo Mundial realiza esfuerzos de defensa activa en representación del sistema global de las cooperativas de ahorro y crédito ante organizaciones internacionales y trabaja con gobiernos nacionales para mejorar la legislación y la regulación. Sus programas de asistencia técnica introducen nuevas herramientas y tecnologías para fortalecer el desempeño financiero de las cooperativas de ahorro y crédito y profundizar su alcance comunitario.
El Consejo Mundial ha implementado 290 programas de asistencia técnica en 71 países. A nivel mundial, 57,000 cooperativas de ahorro y crédito en 105 países atienden a 217 millones de personas. Obtenga más información sobre el impacto global del Consejo Mundial en www.woccu.org.

Teléfono: (608) 395-2000