Risk Management Focus of CPM Visit
May 26, 2006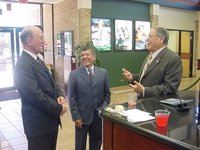 City Credit Union CEO Mike Kelley, CPM's Mario Galarraga and City CU board chairman Roel Ornelas chat at DATCU Credit Union
Caja Popular Mexicana (CPM), the largest credit union in Mexico, wrapped up its three-day tour in Texas Friday, where it visited with credit union executives at Unity One FCU in Fort Worth before participating in an afternoon Juntos Avanzamos ("Together we Advance") flagship ceremony.
The purpose of CPM's visit was to examine how U.S. credit unions manage credit and liquidity risk, as well as operational risks. Representing the CPM on this visit was Mario Galarraga, Jorge Gutierrez and Gonzalo Cervantes. The trio met with Energy Capital CU in Houston and with Unity One FCU. Cervantes identified CPM's greatest challenge as its ability to measure and monitor credit risk in order to minimize losses.
"Loans represent about 70 percent of this institution's assets. We approve 40,000 loans a month, so it is of great importance to develop a methodology to better manage this risk," Gutierrez said.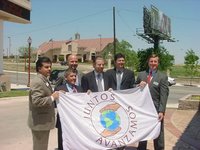 Unity One FCU Juntos Avanzamos flag raising.
Cervantes said operational risk is also very important in the lending area because there is a need to monitor the policies and procedures followed by personnel.
The CPM group also participated in three flagship ceremonies while in Texas. Unity One FCU earned the Juntos Avanzamos designation for its extraordinary outreach to the Hispanic community. The Juntos Avanzamos designation is given only to those Texas credit unions that demonstrate a long-term vision and strategy for serving the market.
Speaking on behalf of CPM, Galarraga said they were honored to have been offered the opportunity to participate in the flag-raisings and recommended the credit unions for their service to Hispanics. Vladamir Stark, CEO of Plus4 CU, said their goal is to be the Hispanic communities' "bridge to financial independence." Unity One FCU CEO Gary Williams assured his credit union is committed to serving the Hispanic market and is here to stay.
World Council of Credit Unions is the global trade association and development agency for credit unions. World Council promotes the sustainable development of credit unions and other financial cooperatives around the world to empower people through access to high quality and affordable financial services. World Council advocates on behalf of the global credit union system before international organizations and works with national governments to improve legislation and regulation. Its technical assistance programs introduce new tools and technologies to strengthen credit unions' financial performance and increase their outreach.
World Council has implemented 300+ technical assistance programs in 89 countries. Worldwide, 68,882 credit unions in 109 countries serve 235 million people. Learn more about World Council's impact around the world at www.woccu.org.