Inicio > Sala de Noticias > Boletines Noticiosos



April 29, 2016
Sala de Noticias // Boletines Noticiosos
26 de mayo de 2006
Risk Management Focus of CPM Visit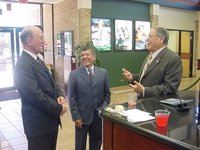 City Credit Union CEO Mike Kelley, CPM's Mario Galarraga and City CU board chairman Roel Ornelas chat at DATCU Credit Union
Caja Popular Mexicana (CPM), the largest credit union in Mexico, wrapped up its three-day tour in Texas Friday, where it visited with credit union executives at Unity One FCU in Fort Worth before participating in an afternoon Juntos Avanzamos ("Together we Advance") flagship ceremony.
The purpose of CPM's visit was to examine how U.S. credit unions manage credit and liquidity risk, as well as operational risks. Representing the CPM on this visit was Mario Galarraga, Jorge Gutierrez and Gonzalo Cervantes. The trio met with Energy Capital CU in Houston and with Unity One FCU. Cervantes identified CPM's greatest challenge as its ability to measure and monitor credit risk in order to minimize losses.
"Loans represent about 70 percent of this institution's assets. We approve 40,000 loans a month, so it is of great importance to develop a methodology to better manage this risk," Gutierrez said.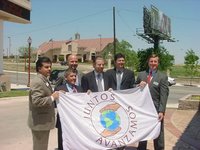 Unity One FCU Juntos Avanzamos flag raising.
Cervantes said operational risk is also very important in the lending area because there is a need to monitor the policies and procedures followed by personnel.
The CPM group also participated in three flagship ceremonies while in Texas. Unity One FCU earned the Juntos Avanzamos designation for its extraordinary outreach to the Hispanic community. The Juntos Avanzamos designation is given only to those Texas credit unions that demonstrate a long-term vision and strategy for serving the market.
Speaking on behalf of CPM, Galarraga said they were honored to have been offered the opportunity to participate in the flag-raisings and recommended the credit unions for their service to Hispanics. Vladamir Stark, CEO of Plus4 CU, said their goal is to be the Hispanic communities' "bridge to financial independence." Unity One FCU CEO Gary Williams assured his credit union is committed to serving the Hispanic market and is here to stay.
El Consejo Mundial de Cooperativas de Ahorro y Crédito es la asociación gremial y agencia de desarrollo para el sistema internacional de cooperativas de ahorro y crédito. El Consejo Mundial promueve el crecimiento sustentable de las cooperativas de ahorro y crédito y otras cooperativas financieras en todo el mundo a fin de facultar a las personas para que mejoren su calidad de vida a través del acceso a servicios financieros asequibles y de alta calidad. El Consejo Mundial realiza esfuerzos de defensa activa en representación del sistema global de las cooperativas de ahorro y crédito ante organizaciones internacionales y trabaja con gobiernos nacionales para mejorar la legislación y la regulación. Sus programas de asistencia técnica introducen nuevas herramientas y tecnologías para fortalecer el desempeño financiero de las cooperativas de ahorro y crédito y profundizar su alcance comunitario.
El Consejo Mundial ha implementado 290 programas de asistencia técnica en 71 países. A nivel mundial, 57,000 cooperativas de ahorro y crédito en 105 países atienden a 217 millones de personas. Obtenga más información sobre el impacto global del Consejo Mundial en www.woccu.org.

Contacto principal:
Linda Webb-Mañon
Organización:
Cornerstone Credit Union League-TX
Correo electrónico:
lwebb-manon@tcul.coop
Teléfono:
800-442-5762 ext. 6486