Set Your Sights on Scotland
WOCCU Opens Online Registration for 2011 World CU Conference in Glasgow
January 21, 2011
MADISON, Wis.— Mark your calendars and set your sights on historic Scotland. World Council of Credit Unions (WOCCU) will convene this year's largest global gathering of credit union professionals and volunteers amid its verdant hills and historic settings in July. It's time to register for this exciting event.
WOCCU has opened online registration for the 2011 World Credit Union Conference, which convenes in Glasgow, Scotland, July 24-27. As the only global credit union gathering, this year's conference is expected to attract as many as 2,000 attendees from more than 50 countries.
Participants are encouraged to register online and secure their hotel accommodations at www.woccu.org/Glasgow2011. Hotel and tour space are limited and the $100 early bird discount for registration ends May 29, 2011.
Returning to Europe once again, the 2011 conference is being held in cooperation with the Association of British Credit Unions Ltd. The conference agenda will feature dynamic keynote speakers and educational breakout sessions focusing on four tracks:
     • Moving from Philosophy to Service
     • Defining Leadership and Strategy
     • Developing Credit Union Movements
     • Raising Financial and Operational Standards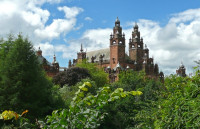 The historic Kelvingrove Art Gallery & Museum will host the 2011 WOCCU Supporters reception at the conference.
A roster of exciting speakers will provide insights into multiple strategic credit union and business topics. Those already signed include:
     • Dr. Peter Tufano, the Peter Moores Dean and Professor of Finance, University of Oxford Saïd Business School, who will help credit unions identify the gaps in financial services today; and
     • An executive dialogue on the role of giving back to constituents while moving the enterprise forward that includes:
     - Peter Marks, group chief executive for U.K. retail giant The Co-operative Group
     - Tamara Vrooman, chief executive officer for VanCity, the largest and most progressive credit union  in Vancouver, British Columbia, Canada
     - Jeff Post, CEO of CUNA Mutual Group, credit unions' largest and closest business partner
Networking opportunities among global credit union peers abound at the conference, including the annual meeting of the Global Women's Leadership Forum, which brings together women credit union CEOs and executive leaders from around the world for educational and networking sessions. Donors who support the network at the $250 level or above are invited to a special networking reception on Saturday, July 23 prior to the conference. The leadership forum, open to network members, starts with the donor reception and runs all day Sunday, July 24, prior to the official conference opening ceremony. For more information on the Global Women's Leadership Network and the forum, visit www.CUwomen.org.
The network also benefits from the Worldwide Foundation for Credit Unions' golf tournament on Thursday, July 28, one day after the conference closes. The tournament, open to men and women and not limited to network members, raises funds that are used in credit union development work worldwide. Learn more at www.woccu.org/Glasgow2011.
The iconic River Clyde bridge is one of Glasgow's most recognizeable landmarks
Other conference highlights include WOCCU's Young Credit Union People Program (WYCUP) for attendees under the age of 35. The program offers special conference educational and networking events for young credit unions professionals and the opportunity to compete for one of five scholarships to attend WOCCU's 2012 World Credit Union Conference in Gdansk, Poland. For more information on the WYCUP Scholarship Program and to download a nomination form, visit www.woccu.org/wycup.
Glasgow and its surrounding area offer attendees and their companions countless activities, sights and culture to experience. The dramatic Scottish highlands combine with sites of historic importance to reveal a country steeped in tradition, but with a forward-thinking, progressive edge. For those who want to come early and stay late, WOCCU is arranging the best Scotland has to offer through pre- and post-conference tours, as well as optional day tours. For more information and to register, visit www.woccu.org/Glasgow2011.
Join us this year in Glasgow, a city that boasts the largest credit union concentration in Great Britain, for a rich mix of progress and tradition. As the only international conference on the credit union calendar, this is an event you can't afford to miss.
World Council of Credit Unions is the global trade association and development agency for credit unions. World Council promotes the sustainable development of credit unions and other financial cooperatives around the world to empower people through access to high quality and affordable financial services. World Council advocates on behalf of the global credit union system before international organizations and works with national governments to improve legislation and regulation. Its technical assistance programs introduce new tools and technologies to strengthen credit unions' financial performance and increase their outreach.
World Council has implemented 300+ technical assistance programs in 89 countries. Worldwide, 68,882 credit unions in 109 countries serve 235 million people. Learn more about World Council's impact around the world at www.woccu.org.
NOTE: Click on photos to view/download in high resolution.