Inicio > Sala de Noticias > Boletines Noticiosos



May 5, 2016
Sala de Noticias // Boletines Noticiosos
07 de septiembre de 2010
South Korea's Credit Union Movement Celebrates 50th Anniversary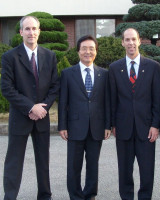 Participants in WOCCU's December 2008 visit to South Korea included (left to right) CUNA Mutual Group's Paul Treinen, NACUFOK training center director Kwangtaek Choi and WOCCU's Dave Grace.
SEOUL, South Korea — Today the credit union movement in the Republic of Korea celebrated 50 years since the country's first credit union was established by 27 hospital employees in 1960. The movement's unified and collaborative development approach has fostered its rapid growth to nearly 1,000 credit unions serving 5 million members, making it the world's third largest.
The most visible byproduct of the credit unions' efforts is a marketing program that positions the cooperatives under one common brand and set of values - self-help, self-reliance and cooperation. South Korean credit unions still operate as individual, member-driven financial cooperatives, but their position in the markets they serve rival those of the largest banks. With common signage and similar products and services, they maintain a distinct member service approach. Cooperative movements in Brazil and Poland, among other countries, have found the approach remarkably effective.
"South Korea's credit unions serve as an excellent example for credit unions around the world of how a collaborative and unified approach to both front-office and back-office operations can truly propel an entire system to new levels of efficiency and reach economies of scale," said Barry Jolette, WOCCU board chair and CEO of San Mateo Credit Union (Calif.). "The Korean movement has made tremendous progress since its founding, and I know they will be celebrating their outstanding success for a long time to come."
The South Korean credit union movement began as a two-tier system as it is today, with individual credit unions being direct members of NACUFOK. In 1988, the movement restructured to begin its nine-year stint as a three-tier system with another level of association in between the credit unions and NACUFOK similar to the structure in the United States and other countries. The movement restructured again in 1997 reverting back to its original two-tier structure. The change led to greater cohesion and collaboration among credit unions in their move towards a more unified brand.
In October 2000, all credit unions in the country became connected through an online system, and at year-end 2008, credit unions began using a single centralized IT system to run operational software and store credit union data. This strategic approach to technology, a daunting proposition for many credit union movements, is the one of the key components of the collaborative approach that characterizes South Korea's credit unions.
The first credit unions migrated to the new IT system in early December 2008 during a visit by Dave Grace, World Council of Credit Unions' (WOCCU) vice president of association services. Shared technology is just the latest collaborative effort that has helped South Korea's credit union movement grow, according to Grace.
"Credit unions in many countries are looking for ways to centralize operations and gain national brand recognition without sacrificing local ownership and the member service touch," Grace said. "Credit unions around the world can be proud of the great success that the South Korean movement has achieved in finding that balance and effectively serving its membership over the past 50 years."
El Consejo Mundial de Cooperativas de Ahorro y Crédito es la asociación gremial y agencia de desarrollo para el sistema internacional de cooperativas de ahorro y crédito. El Consejo Mundial promueve el crecimiento sustentable de las cooperativas de ahorro y crédito y otras cooperativas financieras en todo el mundo a fin de facultar a las personas para que mejoren su calidad de vida a través del acceso a servicios financieros asequibles y de alta calidad. El Consejo Mundial realiza esfuerzos de defensa activa en representación del sistema global de las cooperativas de ahorro y crédito ante organizaciones internacionales y trabaja con gobiernos nacionales para mejorar la legislación y la regulación. Sus programas de asistencia técnica introducen nuevas herramientas y tecnologías para fortalecer el desempeño financiero de las cooperativas de ahorro y crédito y profundizar su alcance comunitario.
El Consejo Mundial ha implementado 290 programas de asistencia técnica en 71 países. A nivel mundial, 57,000 cooperativas de ahorro y crédito en 105 países atienden a 217 millones de personas. Obtenga más información sobre el impacto global del Consejo Mundial en www.woccu.org.

Contacto principal:
Rebecca Carpenter
Organización:
World Council of Credit Unions
Correo electrónico:
rcarpenter@woccu.org
Teléfono:
+1-608-395-2031