Inicio > Sala de Noticias > Boletines Noticiosos



May 6, 2016
Sala de Noticias // Boletines Noticiosos
04 de marzo de 2005
Sri Lanka CU Leader Gives Update At WOCCU's International Reception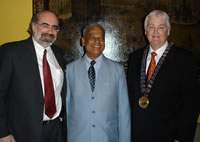 (l-r) Brian Branch, WOCCU president and CEO (Interim); Dr. Kiriwandeniya, SANASA board chairman; and L.R. (Bobby) McVeigh WOCCU board chairman at the International Reception in Washington, DC
Madison, WI—During the World Council of Credit Unions, Inc. (WOCCU) International Credit Union Reception, Dr. P.A. (Kiri) Kiriwandeniya, chairman of the SANASA Development Bank–the national association for credit unions—gave an update of the Sri Lanka tsunami disaster relief efforts to rebuild credit unions. He addressed over 300 WOCCU Supporters, who gathered at the event held at the Italian Embassy in Washington, DC to show their support for international credit union development.
Kiriwandeniya opened his comments by sharing his gratitude with the United States credit union movement and those from other countries that have and are supporting the disaster relief efforts in his country. He pledged that SANASA would rebuild the system and help existing members through this tragedy. He also shared how credit unions were some of the first groups helping provide humanitarian relief, providing clothing, shelter and other necessary items to those affected.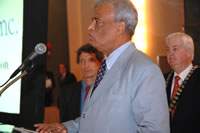 Dr. P.A. (Kiri) Kiriwandeniya speaking at the Italian Embassy.
Hearing first-hand from Dr. Kiriwandeniya how the contributions of America's credit unions through the National Credit Union Foundation will help in the rebuilding of the credit union movement in Sri Lanka was heartening," stated Mary Cunningham, NCUF chairman and CEO of USA Federal Credit Union in San Diego. "The support we have seen from credit unions truly shows how credit unions are different—different by design."
John Ikeda, WOCCU project development manager explained, "Gathering information in Sri Lanka is still a slow and difficult process. It could take over a year to rebuild the physical locations, but it will take years to rebuild the economy."
Other reception speakers included Italian Minister Stefano Stefanini; L. R. (Bobby) McVeigh, WOCCU board chairman; WOCCU president and CEO (Interim), Dr. Brian Branch and Mary Cunningham, NCUF board chairman.
To date close to $600,000 has been raised to help rebuild credit unions in Sri Lanka through the Worldwide Foundation for Credit Unions and the National Credit Union Foundation. Construction to rebuild four destroyed credit unions is already underway and more are soon to follow.
For more information on the Tsunami Disaster Relief efforts visit World Council's website at www.woccu.org.
El Consejo Mundial de Cooperativas de Ahorro y Crédito es la asociación gremial y agencia de desarrollo para el sistema internacional de cooperativas de ahorro y crédito. El Consejo Mundial promueve el crecimiento sustentable de las cooperativas de ahorro y crédito y otras cooperativas financieras en todo el mundo a fin de facultar a las personas para que mejoren su calidad de vida a través del acceso a servicios financieros asequibles y de alta calidad. El Consejo Mundial realiza esfuerzos de defensa activa en representación del sistema global de las cooperativas de ahorro y crédito ante organizaciones internacionales y trabaja con gobiernos nacionales para mejorar la legislación y la regulación. Sus programas de asistencia técnica introducen nuevas herramientas y tecnologías para fortalecer el desempeño financiero de las cooperativas de ahorro y crédito y profundizar su alcance comunitario.
El Consejo Mundial ha implementado 290 programas de asistencia técnica en 71 países. A nivel mundial, 57,000 cooperativas de ahorro y crédito en 105 países atienden a 217 millones de personas. Obtenga más información sobre el impacto global del Consejo Mundial en www.woccu.org.

Teléfono: (608) 395-2000