Inicio > Sala de Noticias > Boletines Noticiosos



May 5, 2016
Sala de Noticias // Boletines Noticiosos
22 de junio de 2005
Strathmore-WOCCU African Management Institute Concludes Tier 2 of Program
Accreditation Program Builds a Stronger CU System in Kenya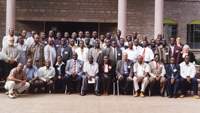 SWAMI Tier 2 class students
Madison, WI – The second tier of the Strathmore Word Council African Management Institute (SWAMI) concluded this week for 20 management staff and 20 board members who completed Tier 1 last November. SWAMI, a comprehensive training program developed by World Council of Credit Unions, Inc. (WOCCU) and Strathmore University of Nairobi, is designed to prepare senior management staff, aspiring managers and board members to handle the challenges SACCOs face in today's changing environment.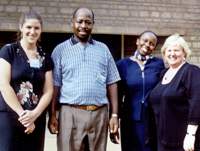 Catherine Ford, WOCCU technical officer: training and research, Joseph Karanja, operations manager, Nong Catholic Members CU (Nairobi), Angelica Kiboro, director of continuing education, Strathmore University and Anne Cochran, CEO, Louisiana Credit Union League and member of WOCCU's International Volunteer Corps pose at the completion of SWAMI's tier 2 program.
The individuals participating in this week's session completed training in accounting, marketing, PEARLS and policies last November and will receive further training on PEARLS and marketing in Tier 2, along with an introduction to budgeting and business planning, IT software, and asset liability management. Tier 3, which begins in November 2005, will cover topics such as product development and implementation, credit scoring, and human resources, among others. Upon completion of the program, participants will graduate as Certified SACCO Professionals; Kenyan participants will have further advantage over their peers, as a SACCO Regulatory Act based on PEARLS standards is currently being considered by Kenya's legislature.
"This is the only course of its kind in this part of the world that allows SACCOs to measure and understand what performance ratios mean to them. The class appreciates the practical aspects of the course content and its relevance to their day to day operations," said Ezekiel Esipisu, Strathmore Facilitator.
Also this month is the second Tier 1 class, with 36 participants (16 managers and 20 board members), which began June 13th. Many of the attendees of the two June sessions come from Nairobi, but some participants come from as far away as Uganda, South Africa, Seychelles, Ghana and Swaziland.
Catherine Ford, WOCCU technical officer for training and research noted, "It is clear that the SWAMI students are committed to the credit union difference and they want to acquire the best skills in order to operate and manage a safe and sound SACCO (credit union). There is a real camaraderie generated among the students who have traveled from all over Africa in order to attend the training. It is a great reward to be involved with this kind of work for credit unions in Africa."
This program has been made possible by a grant from CUNA Mutual Group Foundation, and the involvement of the Louisiana Credit Union League (LCUL) in the planning and implementation of the program has also been instrumental in its success. Scholarships for the program have been made available through the generosity of the Pennsylvania Credit Union Association, LCUL, the African American Credit Union Coalition, the American Heritage Federal Credit Union, and Southeast Region Credit Union Schools (SRCUS).
El Consejo Mundial de Cooperativas de Ahorro y Crédito es la asociación gremial y agencia de desarrollo para el sistema internacional de cooperativas de ahorro y crédito. El Consejo Mundial promueve el crecimiento sustentable de las cooperativas de ahorro y crédito y otras cooperativas financieras en todo el mundo a fin de facultar a las personas para que mejoren su calidad de vida a través del acceso a servicios financieros asequibles y de alta calidad. El Consejo Mundial realiza esfuerzos de defensa activa en representación del sistema global de las cooperativas de ahorro y crédito ante organizaciones internacionales y trabaja con gobiernos nacionales para mejorar la legislación y la regulación. Sus programas de asistencia técnica introducen nuevas herramientas y tecnologías para fortalecer el desempeño financiero de las cooperativas de ahorro y crédito y profundizar su alcance comunitario.
El Consejo Mundial ha implementado 290 programas de asistencia técnica en 71 países. A nivel mundial, 57,000 cooperativas de ahorro y crédito en 105 países atienden a 217 millones de personas. Obtenga más información sobre el impacto global del Consejo Mundial en www.woccu.org.

Teléfono: (608) 395-2000